Identification Numbers !!
Prior to the conception of Chevrolet, Buicks were tested on public roads. There was no body on these Buicks but the employee, sitting on the gas tank, occasionally realized he was perched on a vehicle valued at two years wages. When GM instituted ID numbers, they realized that they were missing about 6 Buicks a week. Occasionally the employee would show up the next day for work, not mentioning the missing Buick. With ID numbers, this practice stopped abruptly. All GM Vehicles carry a Chassis plate and a body plate.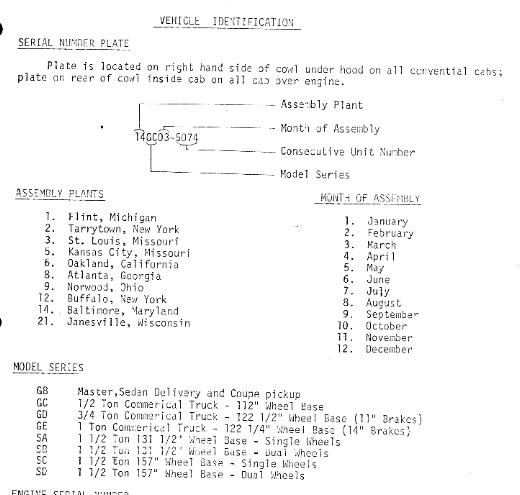 (missing from above) GA = Master Deluxe with knee action ifs.
If you own a single unit Martin-Parry bodied truck, the plate is located where you step on when you enter the right door has the 3 body numbers somewhere in all those numbers.
The Fisher Coupe Pickup box and Martin-Parry double units had a body tag under the bed that has probably fallen off a long time ago.
Passenger cars made by Holden have a plate on Left side of cowl under Bonnet.
Passenger cars made by Fisher have a Plate on Right side of cowl under Hood.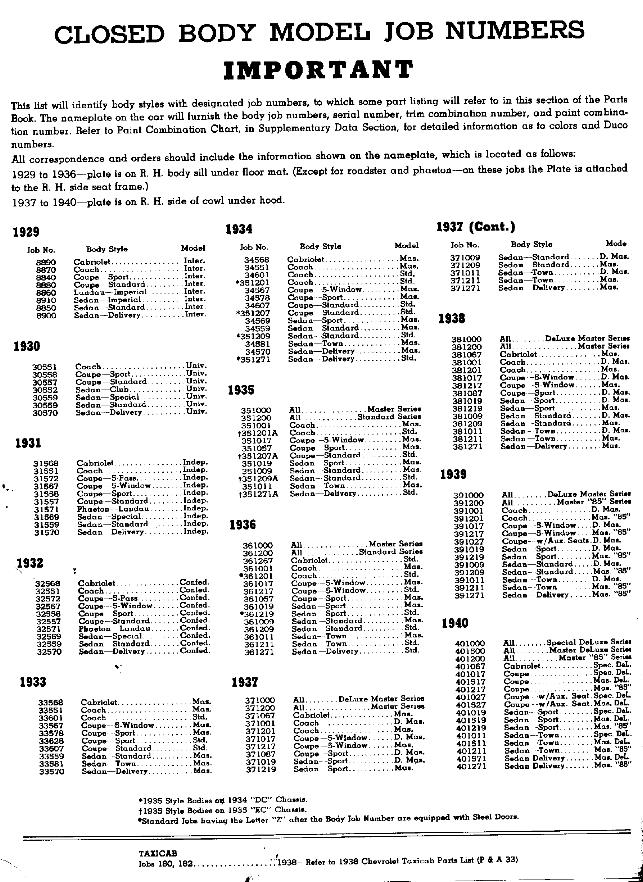 See the Taxi located in foot note above and Ambulance and Suburban in foot notes below. They refer to Special Parts book.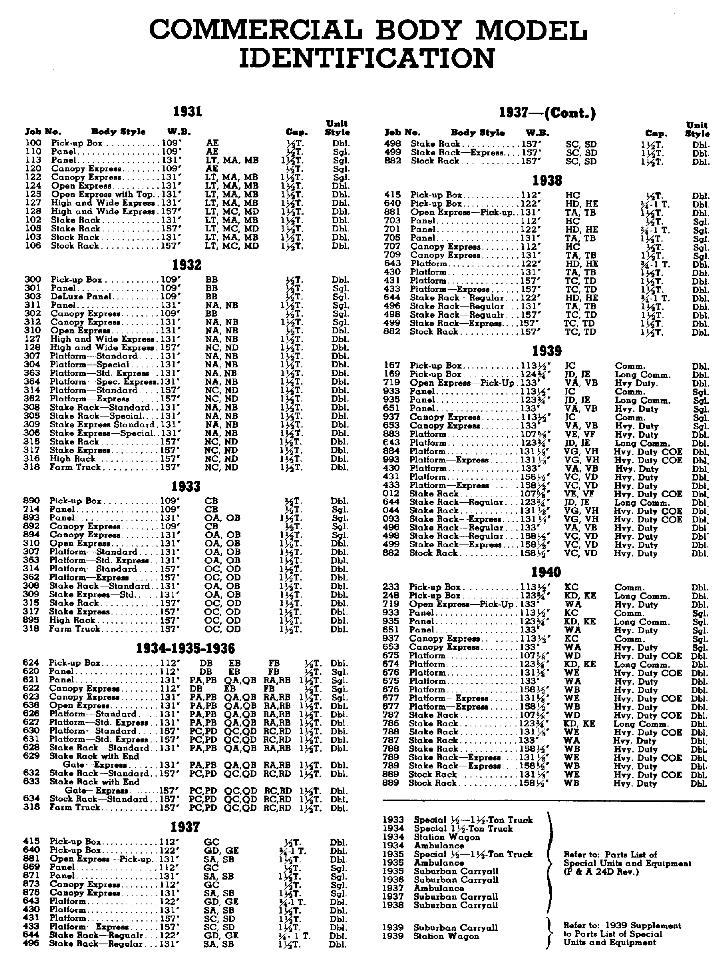 These numbers are located on a plate that the passenger steps on when entering a single unit truck. It is under the box on a Coupe Pickup. On the optional canopy top for pickups, it's located under the right front. I have never seen one on a double unit truck but one fellow says he found one with the correct number (XXX415) on the cowl of his pickup where the Weight Plate is usually found.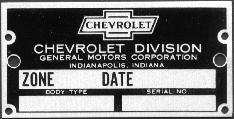 Zone = 6 for Oakland, for example. Date = Assembled. Body Type = 6 numbers. The first 3 are unknown. The last 3 numbers correspond to the above body identification. The first 3 do not correspond to a paint number.
It is attached with 2 of the 4 nail holes on wooden trux and with 2 of the same hex & clutch head screws that hold the ID plate on your cowl, on metal trux.




More Numbers

Now that you have memorized all the numbers above and think you've got it figured out, here's more to remember.
Starting in 1934 and ending around 53 the Fisher numbers changed. If you look at the 34 Fisher numbers you'll notice that some numbers have 34XXX, [last two numerals of the year and a three number body designation.] and others have 34XXXX [with 4 number body designation.]. Here's what the 6 numbers mean: First two are year designation. Second two denote chassis. 10 = Deluxe passenger chassis, 11 = Half ton, 12 = Standard passenger chassis, 13 = 3/4 ton chassis, 14 = one ton, 15 = Intermediate grade passenger car, 41 = Ton & half 131" WB, 44 = Ton & half 157" WB. The last two denote the body style on Fisher only. 01 = Coach, 11 = 2 - door sedan with trunk, 09 = 4 door sedan without trunk, 19 = 4 door sedan with trunk, 17 = Business coupe, 67 = Cabriolet or convertible, 87 = Sport coupe, 71 = Sedan Delivery, 23 = Taxi or Imperial with trunk.
In trux they had an overlapping model numbers to be confusing. 3100 = Half ton. 3102 = Chassis, 3103 = Cab & chassis, 3104 = Pickup, 3105 = Panel, 3106 = Burb (door), 3107 = Canopy, 3112 = Chassis with windshield, 3116 = Burb (gate). 3600 = 3/4 ton, 3608 = Flatbed, 3609 = Stake, 3742 = 3/4 ton Dubl-duti package delivery. 3800 = One ton, 3942 = One ton Dubl-duti package delivery. 4100 = short WB ton & half, 4400 = Long WB ton & half, 4500 = School bus chassis (same WB as 4400), 4700 = Extra long School bus chassis, 5100 = Short WB COE, 5400 = medium WB COE, 5700 = long WB COE, 6100 = Two Ton short WB, 6400 = Two Ton on medium WB, 6700 = Two ton long school bus chassis.
If you look at production figures, try following Sedan Delivery through several years. In 1929 it was job# 8900. From 1930 - 34 it was #570. From 34 - 52 it was #1271, and after 1953 (?) it changed to #1508.






Back to Carz >>
Back to Trux >>
Back to Production figures >>
Back Home >>>








Okay, The following covers the time frame being discussed.

1 = Flint
2 = Tarrytown
3 = StLouis
5 = Kansas City
6 = Oakland
8 = Atlanta
9 = Norwood
12 = Buffalo,N.Y.
14 = Baltimore
20 = Los Angles
21 = Janesville

In 1953 The serial number system, with reguards to assembly plant identifiers, changed. The 1953 serial numbers looked like this:

53A = Atlanta
53B = Baltimore
53F = Flint
53J = Janesville
53K = Kansas City
53L = Los Angeles
53N = Norwood
53O = Oakland
53S = St. Louis
53T = Terrytown

Over the years the Plant identifiers changed due to assembly plants being added along with the mix that came as a result of GMAD being formed.

A = Lakewood
B = Baltimore
C = Southgate
D = Doraville
F = Flint
J = Janesville
K = Leeds
L = Van Nuys
N = Norwood
R = Arlington
S = St. Louis
T = Tarrytown
U = Lordstown
V = Pontiac
W = Willow Run
Y = Wilmington
Z = Fremont
1 = Oshawa (yes, that's a one)