B l e s s Y o u, Q u a n Y i n!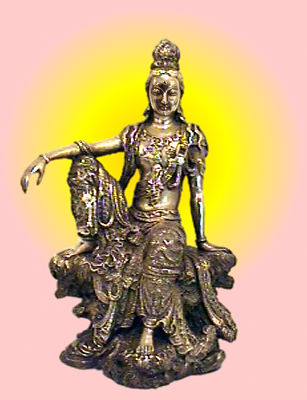 ---
This page is a Virtual Altar dedicated to Quan Yin, Goddess of Mercy and Compassion. It serves to both honor Quan Yin and, as we believe she brought us together, to commemorate our marriage. In bringing us together Quan Yin has saved both our lifes, and given us greater joy than we ever imagined. The image of her above is the brass statue that is enshrined in our home altar.
Our seventh year anniversary will be June 8, 2004.
-Danna Blesser & Ken Tao
Haga clic aquí para leer esta pagina en español.
Estale aqui para ler esta página no português.
Scattarsi qui per leggere questa pagina in italiano.
Klicken Sie hier, um diese Seite auf Deutsch zu lesen.
Cliquetez ici pour lire cette page en français.

To learn more about Quan Yin / Kuan Yin please visit the links below:
Kuan Yin
Kuan Yin Bodhisattva, Riding Dragon
Saved by Kuan Yin
The Worship of Kuan Yin Bodhisattva
Quan Yin, the Goddess of Mercy
Beloved Quan Yin
Kuan Yin Virtual Temple

The Compassion and Mercy of Quan Yin

Quan Yin's Home Page
"Sacred Well, Homage to Quan Yin"
Kwan Yin
(Special thanks to Ismael Rodriguez Rodriguez for providing us with a smoother translation of our Spanish page and his wonderful Kwan Yin page.)
---
If you would like to make us aware of any other non-commercial Quan Yin / Kuan Yin sites on the web or just say hello:

Please, sign the guestbook!
View the guestbook!


---