Burb!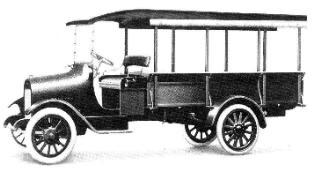 <<Click photo for History.
(Above is 1918 Chevrolet model T one ton chassis with Depot hack body from unknown body maker.)

In the "Good Old Days", a buckboard hauled passengers and their cargo from the train depot to their destination. Its motorized descendant, the Depot Hack was a predecessor of both Canopy Express and Suburban Carryall (aka: Burb).
In the 1920s, GM and other vehicle manufacturers used the passenger chassis for the light delivery (half ton) chassis, the Station Wagon and Taxi/Limousineare also descendants of the Depot Hack.

Special Units Parts book below list vehicles GM made on special order.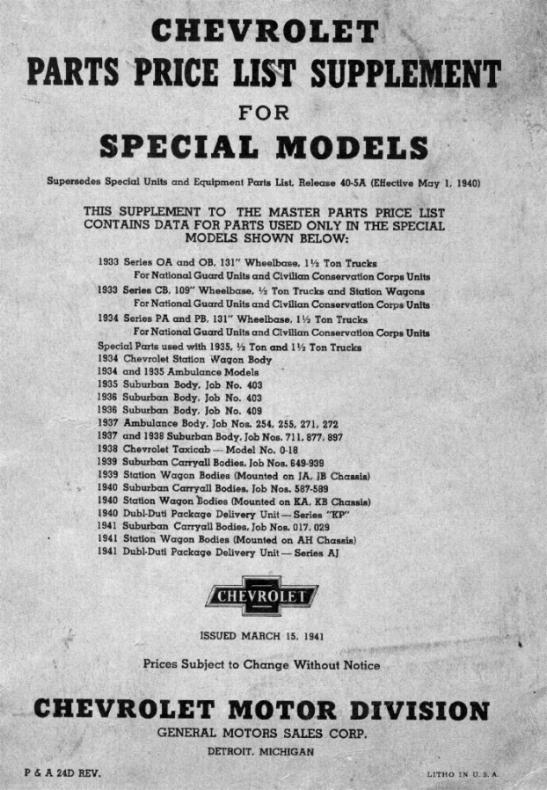 The Special Units Parts Book list a 1933 & 34 "Station wagon on a 1/2 ton chassis" for National Guard and Conservation Corps, the obvious predecessors of the 1935 Carryall Suburban. (Why does the Govt. get to play with all the neat toys?) I believe this may be one of these wagons.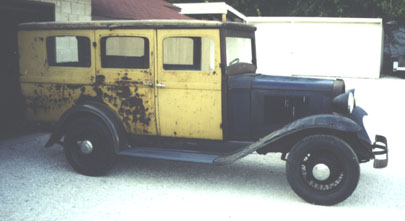 1933 Wagon belonging to Mr. Kessler.
Remember that before 1936, GM used wood framing with metal sheathing on Fisher and Martin-Parry bodies. Reading thru all the part numbers shows it uses many parts that coincide with a panel truck body. Here is a copy of the headings, as they are listed inside.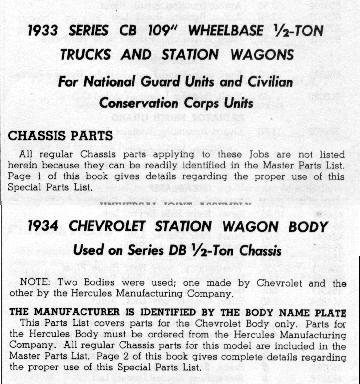 Two years later, the special order 'Burb' outsold the regular production Canopy by 1998 to 1206. (GM beat Willys to the "all steel Wagon" by over a decade). Pickups and Burbs are still in production today. The last Canopy was in 1955 and Panel trucks were supplanted by vans in the 1970s. In the year 2000, GM is phasing out the Suburban name, calling the small S-10s "Blazers", the short Burbs "Tahoes" and the GMCs Yukons. Notice that 1936 -38 Burbs do not have hood emblems (Bonnet Badges in Australia) It is presumed that Hotels might like their name on the hood side panels.
The 37 Chev "Burb" cost $685 base, weighted 3460 Lb, and only 1998 were made.
The following factory photo uses a lot of file space. Note the detail on the striping. The tailgate in this photo has never been opened as the license plate usually scrapes on the tailgate and the Bumper Guards (overriders) will poke holes in it.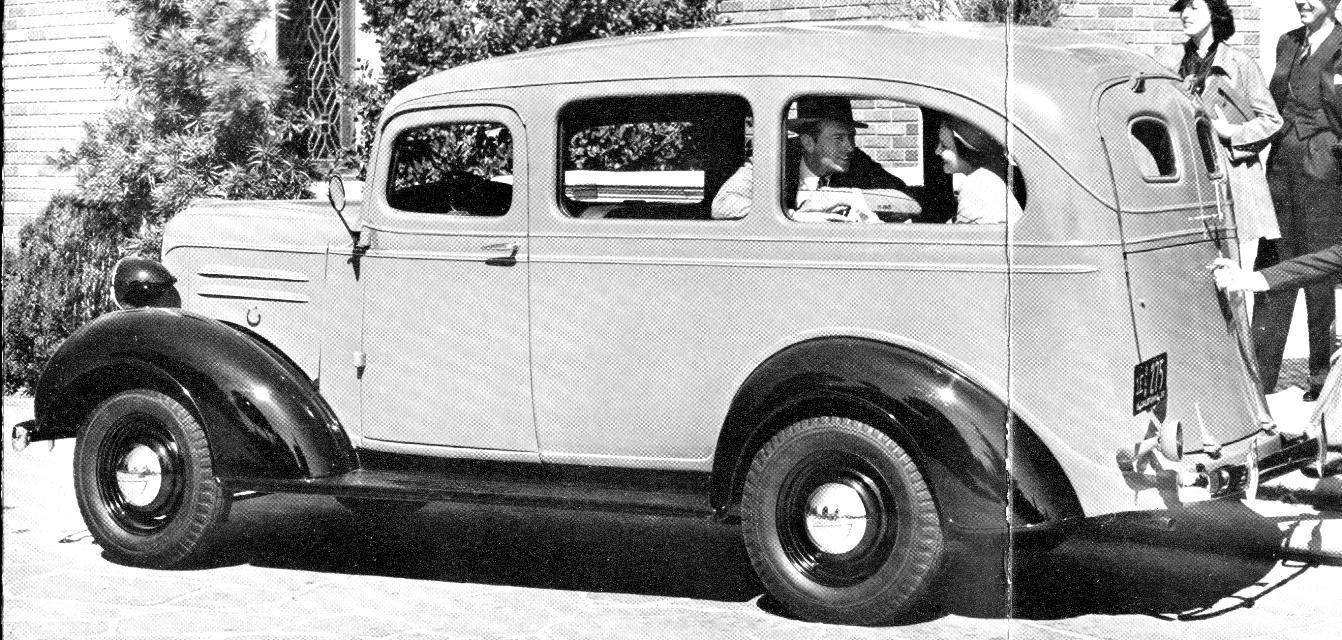 GM, Dodge and International Harvester produced Canopys and truck based wagons in the 1930s and 40s. Ford never did, but outside manufactures produced bodies for Ford and other Commercial Chassis. IH made a Travelall from 40s - 70s. Dodge made a Town Panel from 40s - 60s but neither was as popular as the Burb.



Prior to the metal body Travelall, CornBinder (IH) offered wooden "Burbs" in 1935 and in two sizes in the mid 1940s.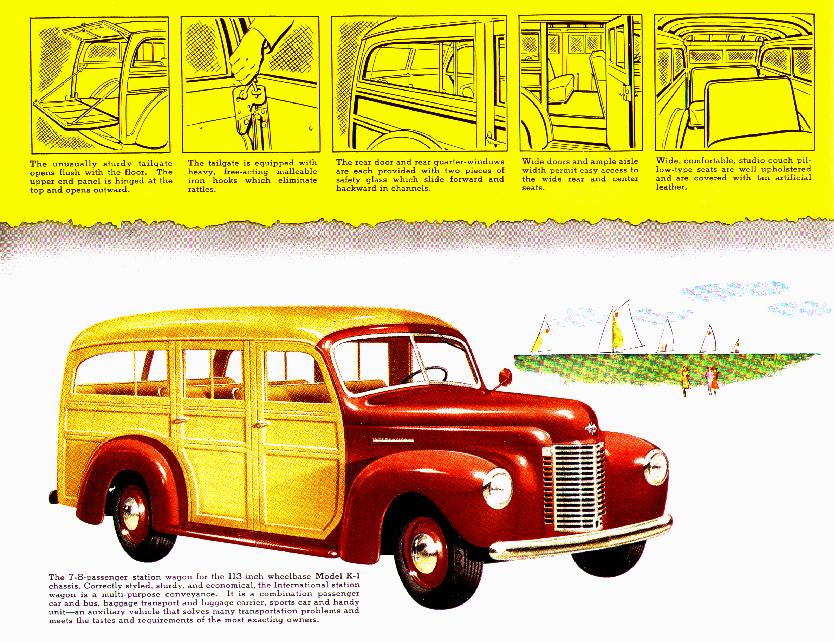 Dodge also offered a "Town Panel" from the 1940s thru the 60s. It's popularity never rivaled the GM Burb. The rear door on the Dodge pictured below is framed in wood and the roof still has a fabric insert. Bad combination for longevity.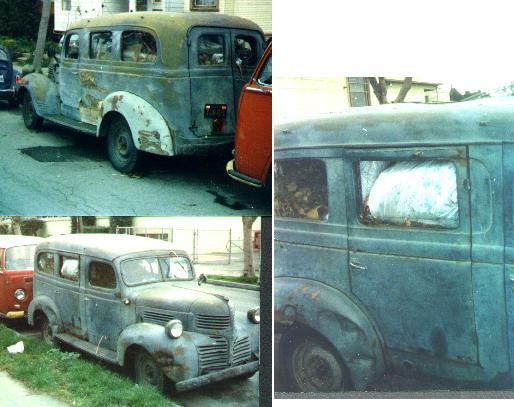 In the photo of the 1935 burb below, Notice how the liftgate is hinged.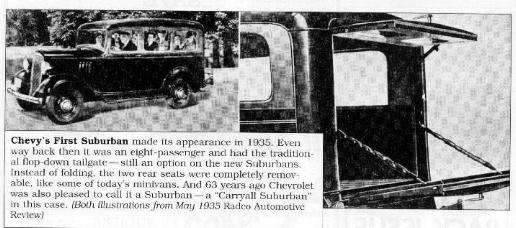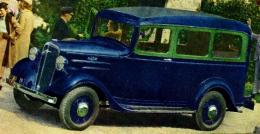 The color combo in the 36 burb above, is interesting.
Ron Brazille's nicely restored 36 Carryall Suburban differs from the picture above in that the side mount spare tire is on the left side hampering access to routine engine inspection. All other 36 Chev trux, that I've seen, have the side mount on the right. In 1937, the spare was inconveniently mounted under the rear of the chassis where it remains in pickups to this day. Another serious discrepancy is that the artist's conception above shows hood emblems that Burbs never had from 1935 - 38. Ron's Burb is correctly restored with out.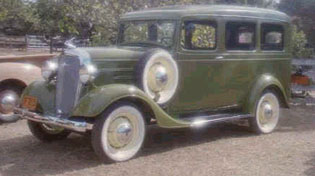 My 1937 Ambulance is frequently mistaken for a early burb since they have grown so much over the last 60 years. Ambulance is Job #271 listed in Special Part List.
It's seen below parked next to Ron Brazille's Burb to show the contrast between the High Roof (3 door hinge) and Low Roof (2 hinge) single unit body styles. The body is rounder and the visor dissappears in 37. the 36's S-curve fenders are replaced by Pontoon fenders for 37. A plus for the 37 metal body is that it is more aerodynamic. The smaller, more convenient load area is a plus for the 36.


Driving thru Ukiah recently, a guy yelled, I didn't know they made Suburbans in 1937. When I caught up to his Camero, I said they only made half ton Burbs in 1937, this is an ambulance. He bought a 41 Burb from me.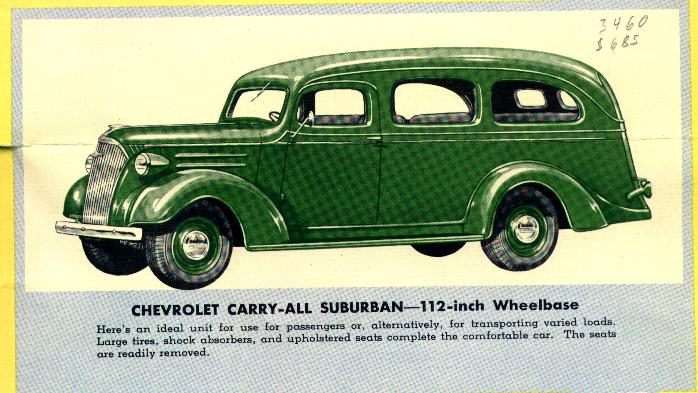 Weight and price are written in upper right of color Brochures.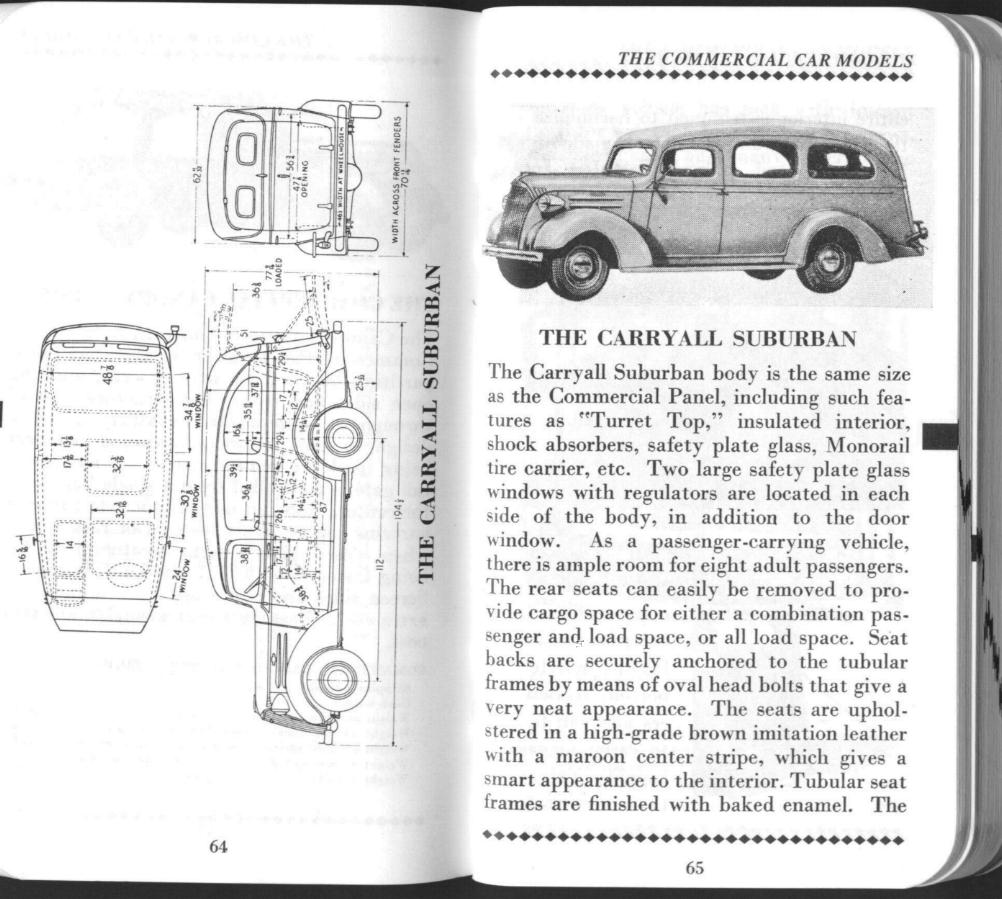 (This book is available from Jim Carter's.) <jimcartertruckparts@worldnet.att.net>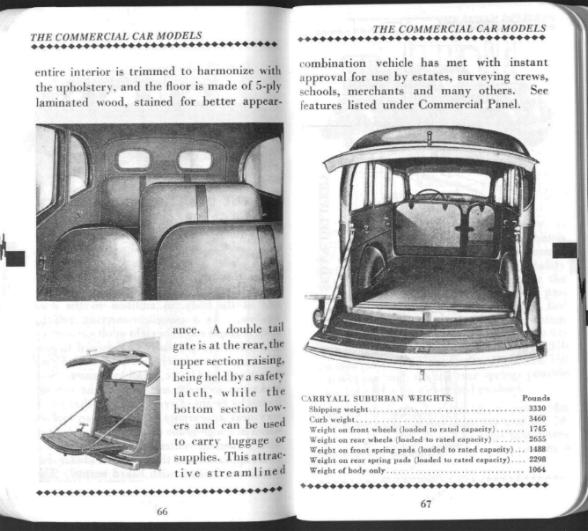 Carryall Suburban Production figures:
Year Job# Wheelbase Series Price Weight Production
1931
1932
1933 (Metal Wagon) 109" CB (refer to Special Models above)
1934 . . 112" DB . . . .
1935 403 Green Imitation leather 112" EB (?) (?) (?)
1936 403 Olive Drab 112" FB (?) Govt. bid #3816 (?) (?)
1936 409 Green Imitation leather 112" FB $685 3255 Lb. (?)
1937 877 Tailgate 112" GC $685 3330 Lb 1998
1937 (?) Panel Doors 112" GC (Included in above)
1938 711 Tailgate 112" HC $834 3295 993
1938 897 Panel Doors 112" HC (Included in above)
1939 649 Tailgate 113.5" JC $808 3210 1274
1939 939 Doors 113.5" JC (Included in above) 259
1940 589 or 937 Gate 113.5" KC $808 3300 1054
1940 587 or 933 Doors 113.5" KC (Included in above) 718
1941 029 or 013 Gate 115 AK (?) (?) 2190
1941 017 or 009 Doors 115 AK (?) (?) 964
1942 029 or 013 Gate 115" BK (?) (?) 1536
1942 017 or 009 Doors 115" BK (?) (?) 496
1943 - 1945 (war production not listed)
1946 077 or 073 Gate 115" DP 59 + 2486
1946 075 or 071 Doors 115 DP 60 + 1584
(Please note that the production figures and Special Models Parts book do not agree.
Special Models list no panel door model for 1947 or 1948 but Production list 718 Panel Door
burbs produced for 1947 and none for 1948.)
1947 077 or 075 Gate 115 (?) 1194
1947 (?) Doors 115 718
1948 814 or 811 115 5910
( I researched 8 books for this last little bit of information. It is possible that I made an error in cross referencing the various models. Please let me know if I made a mistake or you have additional information. I have no 1/2 ton production or Special Models books newer than 1948.)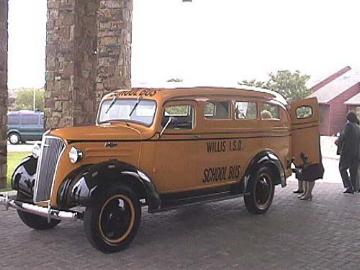 I have seen several long Panels converted into School Busses in many years. Click photo to view other Panel trux. Click this line to view Busses. Click here to view Ambulance.
The Burb is exclusive to USA but shipped around the world. I saw a photo of 20 1937 Burbs in front of a hotel in India. In 46, Holden offered a limited number what's pictured below.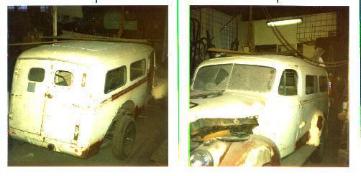 Click here to view the section on Station Wagons.

Vanity! (My trux)
The last are pix of my Burbs.
I assumed that no 37 burbs existed on the west coast, after looking (not hard enough) for a decade, I hooked the cat trailer to the Ambulance and headed to Michigan to get the "Burb of my dreams". Their (the middle easterners, of Michigan) idea of "Minor rust" is our (Californians) disparaging remark, "Don't park that rusty piece of _ _ _ _ in front of my scrap yard".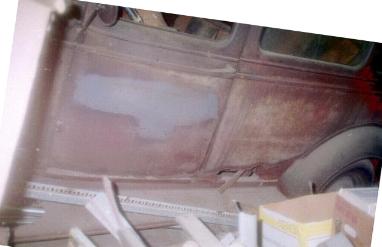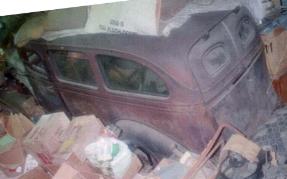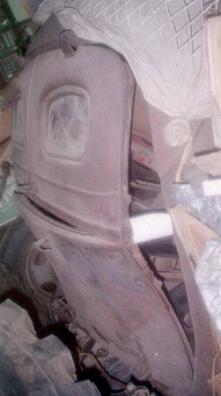 It is possible to open the tailgate or lift gate without disturbing the other. The tailgate was taller than that on the Canopy. The lift gate is constructed of two severed panel doors tacked to a wood frame with only a right side prop rod. It never opened straight and sagged immediately. Note the unique lift gate hinges.
In a farmers field near McArthur, this burb body apparently was home to many chickens who were not house broken. The body is not rusty but dented and missing many parts. The rear doors were swapmeet specials. It never had a tailgate and does not have the brackets on the body for such.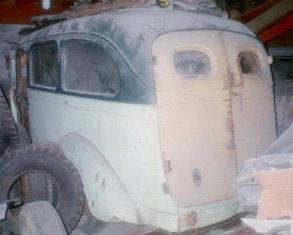 .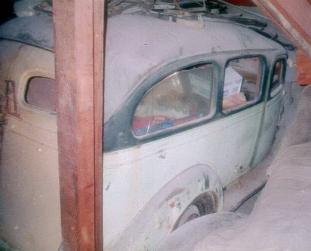 Both of the above are wedged tightly in a storage building and it took much digging to photograph. They are both currently being used for storage containers tho I would love to restore them.

This last one was used by city of Beverly Hills and still has city insignia on door. I towed it home from Anaheim (Disneyland's city) with theSuperior bus and my girlfriend (at that time) leading in her newly purchased 46 Wayne bus. The grapes of wrath snubbed their noses at us. There must have been a lot of donut shops offering freebies as the Hiway Patrol didn't pester us this trip.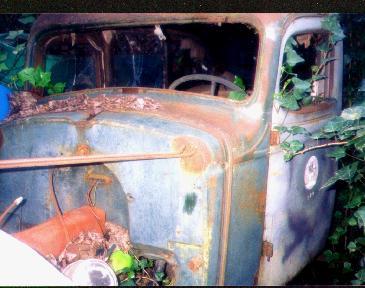 The Details on the acquisition of the Beverly Hills Burb are located in the Bus page. Click here for more info.


Ever wonder what is in the garage infront of the orange Advance Design Suburban??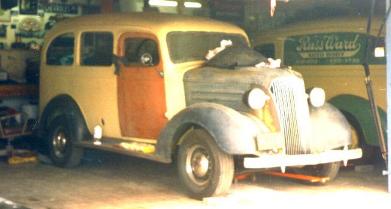 This Burb is now restored and in McPhearson Chevrolet's collection. I don't know who has the 38 Panel in the back ground.
I don't wish to bore you with too much personal stuff.






Repair tips
Another history of Burbs is at <http://www.classictruckshop.com/clubs/earlyburbs/history.htm>
A site for newer Suburban Carryalls <http://www.classictruckshop.com/clubs/earlyburbs/>
The woodie club <http://www.classicar.com/clubs/woodie/woodhome.htm>
Would you like to look at Canopy Express trucks?
Panel trux >
Ambulance >
Wagons>>
Back to Trux>>
Back Home>>>
Click here if you came in from the Stove bolt page, and wish to return <http://www.stovebolt.com/truck/gallery.htm>. >>