Why Didja Cut the Sides out of Yer Panel Truck?!!
The Plight of the Canopy Express.
<<Click photo for History.
(Above is 1918 Chevrolet model T one ton chassis with Depot hack body from unknown body maker.)
In the "Good Old Days", a buckboard hauled passengers and their cargo from the train depot to their destination. Its motorized descendant, the Depot Hack was a predecessor of both Canopy Express and Suburban Carryall (aka: Burb). In the 1920s, GM and other vehicle manufacturers used the passenger chassis for the light delivery (half ton chassis) The Station Wagon and Taxi/Limousine are also descendants of the Depot Hack.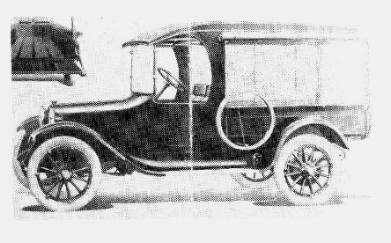 .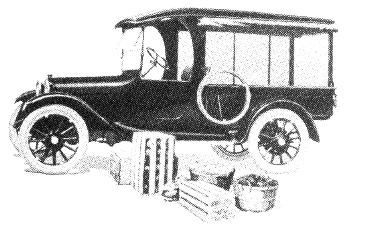 1917 Dodge with Graham Canopy Express body. 1921 Dodge screenside is similar with clearer photo.

In 1917, the first body style the Graham Bros. produced for Dodge trux was a Canopy Express Screen Side Delivery. A week later they started making panel trux.


When GM bought the Martin-Parry body company of Indianapolis in 1931, they changed the name to the Chevrolet body division of GM. 1931 was the first year Chevrolet produced a Canopy Express as well as the first year for a pickup. I've tried to include a photo of every Canopy Express body that Chevrolet made. They made two sizes Canopy Express bodies from 1931 - 55. A half ton and a one ton or ton & half. 1931 - 33 were similar. (1932 ads below). 1934 - 36 used the same bodies on all their single unit vehicles**. I have no evidence that a 1936 low roof single unit was ever made. (1936 pictured) I displayed both sized of 37 and 38 which were similar bodies as this site is aimed at 1937 Chevs. The Art-Deco body on the 1939 - 46 were similar with different front end sheet metal. From 1941 - 47 the Canopy was available in 3 sizes. The one ton and the ton & half sharing the same body with different chassis. The Advance Design 1955 first series was the last of the Chevrolet Canopy Express. (Ad below) I have not seen evidence of a thought of Canopys on 1955 - 59 Task Force trux. Energy was focused on the Cameo. They discontinued panel trux in the 1970s. Is the Blazer the modern incarnation of the Canopy Express?


1932 above: Number 4 & 5 on top row are Standard Canopy Express and Screenside.
#2, 3, & 5 on the bottom row are closed car PU with Canopy over bed, Special Canopy Express and Roadster PU with Canopy.
Nowhere do I see the ton & a half Canopy Express.
Below the ton & a half Canopy Express is located center bottom.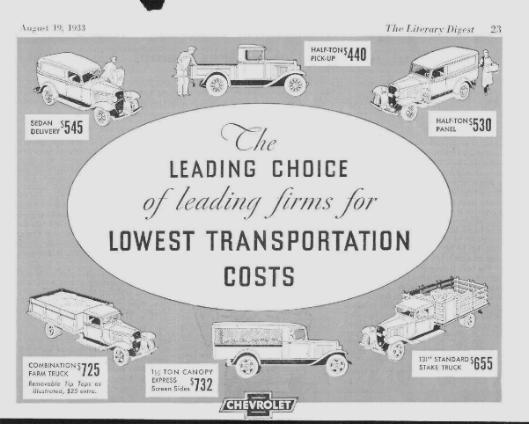 Year Job Number Wheelbase Series Capacity
1931 #120 109" AE Half ton
1931 122 131 LT, MA, MB Ton & a Half
1932 302 109 BB Half ton
1932 312 131 NA, NB Ton & a Half
1933 892 109 CB Half ton
1933 894 131 OA, OB Ton & a Half
1934-36 622 112 DB, EB, FB Half ton
1934-36 623 131 PA, PB
QA, QB
RA, RB Ton & a Half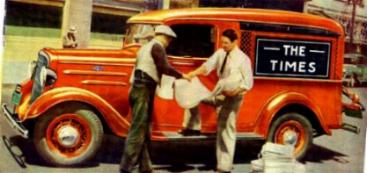 1936: Half Ton above and Ton & a Half below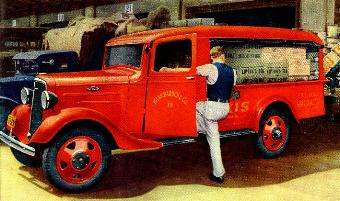 I have no production figures for 1931 - 36 Canopy Express. Anyone know?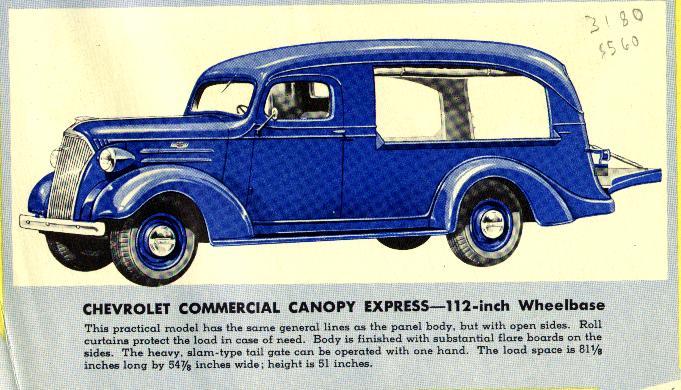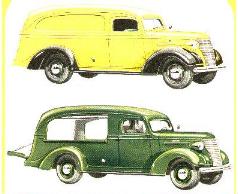 .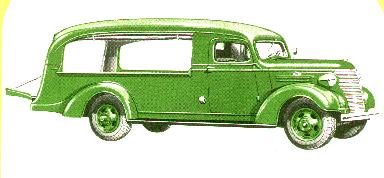 Year Job# Wheelbase Series Capacity Price Weight Production
1937 873 112 GC Half ton $560 3180 1206
1937 875 131 SA, SB Ton & half 775 4075 510
1938 707 112 HC Half ton 678 3160 551
1938 709 131 TA, TB Ton & half 852 4040 224
1939 937 113.5 JC Half ton 714 3025 (?)
1939 653 133 VA, VB Ton & half 883 4010 (?)
1940 937 113.5 KC Half ton 694 3050 528
1940 653 133 WA, WB Ton & half 867 3970 220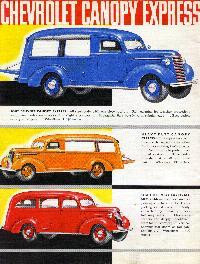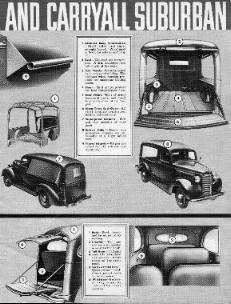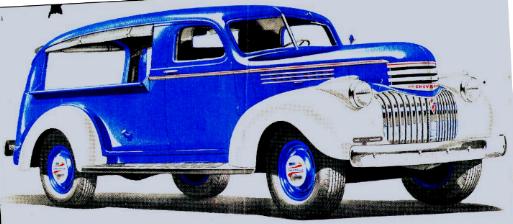 Year Capacity Production
1941 Half 532
1941 One ton 26
1941 1-1/2 307
1942 Half 182
1942 One 35
1942 1-1/2 102
43-5 Half 10
43-5 One (?)
43-5 1-1/2 ton 12
1946 half 603
1946 One 280
1946 2 ton 176
1947 Half 300
1947 One 99
1947 2 ton 229
1948 Half 843
1948 One 347
1948 2 ton (Discontinued in this size)
Please note that 1941- 47 one and 1 1/2 ton Canopys used same body and wheel base with different axles and chassis.
1949 half 570 (?)
Sorry but I do not have production figures for Advance Design from 1949 - 55.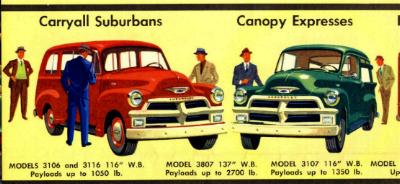 The Advance Design 1955 first series was the last of the Chevrolet Canopy Express.
The closest thing Holden had to the Canopy Express, was the open sided newspaper truck.

Other manufacturers
GM, Dodge and International Harvester produced Canopys in the 1930s and 40s.; Ford never did, but outside manufactures produced bodies for Ford and other Commercial Chassis. Note that IH followed GM styling in using Panel outer skin as basis for Canopy. Dodge used Pickup box and canvas over wood lath roof on theirs. (Dodge's panels still had a leaky canvas insert roofs into the 40s. My 34 humpback has 2 canvas inserts to leak.)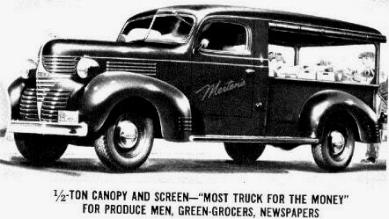 .



Above is 1940 half and one ton Dodge Canopy Express trux.
Below is a 46 Dodge.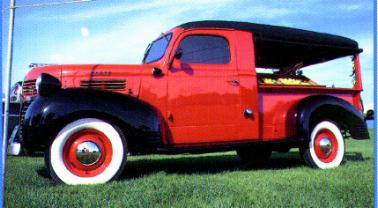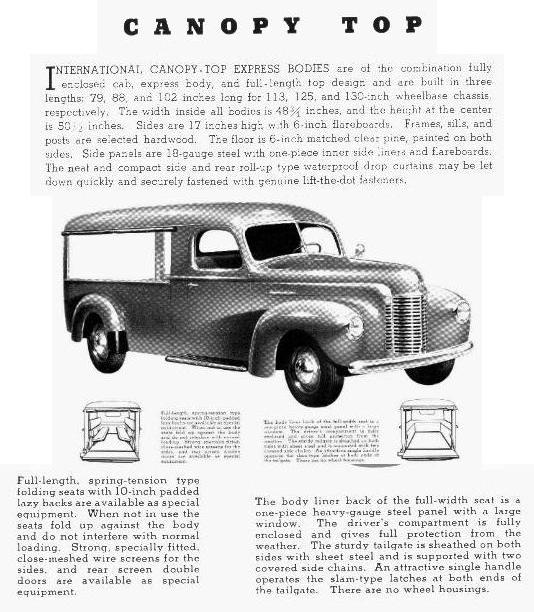 Above is early 40s IH. They offered Canopy on 3 wheel bases.
Below is 1935 Corn Binder offering Canopy and Wood Wagon

In 1937, Studebaker, Hudson, Reo, Stewart, Mack, Diamond T, Dodge, International Harvester, GMC, Crosley (1939), Willys, Fargo, Brockway, Austin Bantam, Autocar, DeSoto, Federal, Mercury (1940), and Nash, Offered small (half to one ton) pickup trux, as well as Ford, Chevrolet and Plymouth.
A few of these manufacturers offered Panels but I don't know how many offered Canopys in 1937.
If I have made an error in the last 2 paragraphs, please correct me. If you could document the correction, that would be great.





You could order a Canopy top for your 1937 Chev Pickup, but it only had 2/3 the volume of the 1937 Chev Canopy Express. (The Salesman Data book is available through Jim Carter's) <jimcartertruckparts@worldnet.att.net>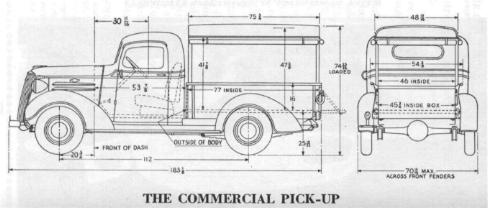 Click above to view pickup page. >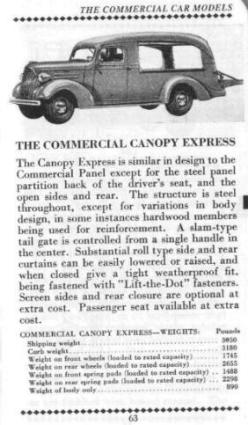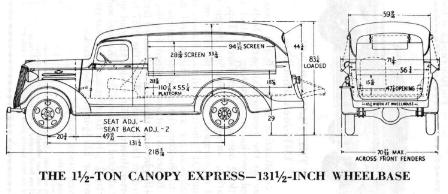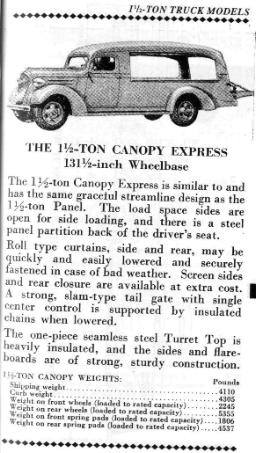 Vanity! (My trux)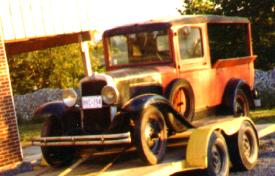 Randy Cuthbertson sent me a photo of his 31 half ton Canopy Express many years ago. This was the first year Chevrolet made the Canopy Express body.

DAVID A YUCAVITCH would like to share a photo of his 33 Canopy Express.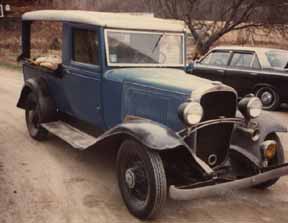 (If this photo does not appear, try <<http://la.znet.com/~t1937/33Canx.htm>> and use back button to return.)

Below are photos of mine. The green is body only. The red is fairly complete and the Yellow has original paint and engine. The Yellow is a daily driver.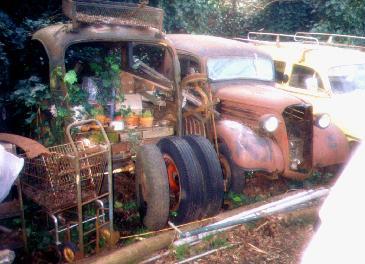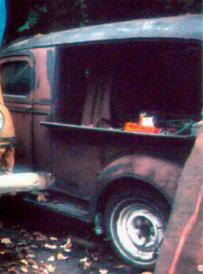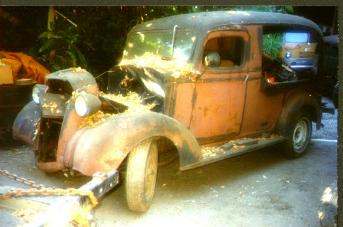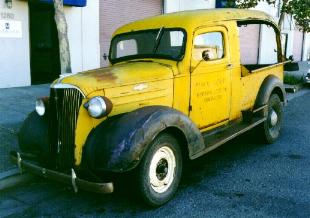 My yellow Canopy is original (paint and engine) and is used as a daily workhorse. "It was restored over 60 years ago by factory experts!" I got better than 20 MPG when I drove to LA in January.
I was always curious about history of my vehicles and how this vehicle survived the 90,000 miles before I owned it with the original engine and paint. The lettering on the side said Hancock painting and decorating with a 5 digit phone and "#3" just behind the door. What did truck #1 & 2 look like? I bought it in Clear Lake around 1970 from Mr. Anton. About 5 years ago, a fellow hailed me down and asked if I bought it in Clear Lake. That was Anton.
Last week, I went to an Electric Auto meet in Santa Rosa. When I stopped to ask directions, a fellow, Dana Markus, approached and said he owned this truck 40 years ago.
Hancock was his neighbor's uncle. She got the truck when he passed away and drove it to school for a while. She sold it to Dana who was too young at the time to drive on city streets. He told me tales of learning to drive and adding dents to the fenders that got too near fence post. He sold it to a distant neighbor John Anton, who sold it to me.
It pays to drive 'em in original condition rather than restore and keep them in a garage all the time.
In the photo below, I'm picking up spare parts from another Canopy owner 350 miles away. Last photos are his canopy.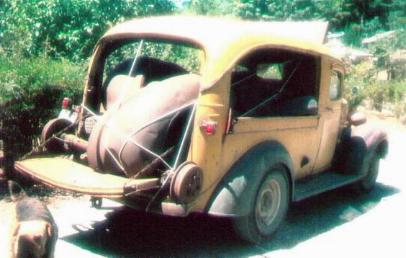 A friend 350 miles (Crescent City) away gave me the parts he wasn't going to use in his restorod canopy. Airedale is "Max", pictured above. Roger and Ginny and their Canopy are pictured below. Max is the older Airedale pictured below.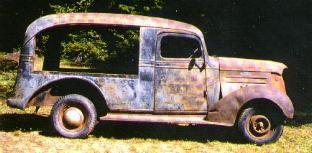 Before above. After below: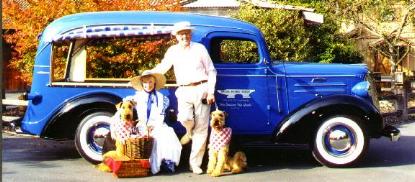 This rare 1938 GMC half ton Canopy belongs to Ron Loos of Redding. It used a Pontiac engine.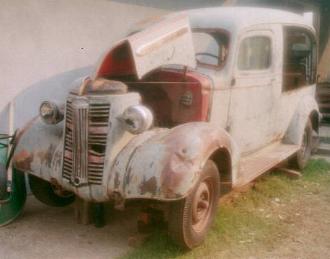 This year I called all the Canopy owners I knew and we had 3 at the Paso Robles GM show this year. A rare treat indeed.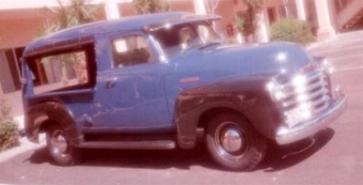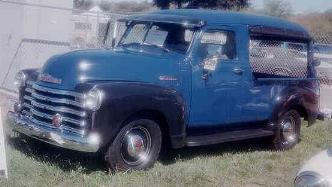 The 48 Blue Canopy was restored from a tattered shell by Eldon Schmidt.
The 49 Green Canopy was brought to like new condition by Mike Ahlmann. He is offering it for sale. Click for info: <http://home.earthlink.net/~ahlmann/canopy/history.htm>.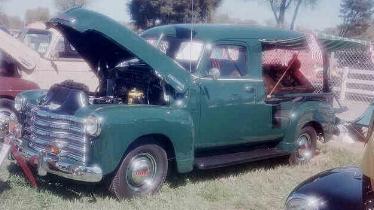 The advantage of having 3 Canopys at a show is that spectators ask, " Why Didja Cut the Sides out of Yer Panel Truck?!!" , only a third as often.



If you would like to send a photo of your Canopy Express to be posted on this page. I'll paste them up till I run out of room. Email images to <c1937@znet.com>.



Would you like to take a look at Carryall Suburbans?
Click here if you came in from the Stove bolt page, and wish to return <http://www.stovebolt.com/truck/gallery.htm>. >>