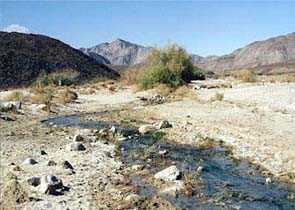 Just two years before the signing of our Declaration of Independence this huge wilderness desert amphitheater was first glimpsed by Juan Bautista de Anza, colonizer of San Francisco. He led the first overland journey between Sonora and the Pacific littoral bordering the Sierra Madre. His route lay across the Imperial Valley, through the Borrego, and into the mountain regions by way of Coyote Creek. For nearly a century and a half after desert winds had obliterated the tracks of Anza and his followers, the Borrego Valley was a forgotten land. Except for the few Indians who eked out a primitive existence around the few springs and wells in adjacent canyons, the valley was avoided by travelers.A visitor to Borrego Valley will find much of interest along the route that leads from the wooded heights of a mountain range to the desert's floor. A gradual transition from the sub-Alpine through the upper Sonoran zones discloses an amazing variety of trees, plants, and shrubs which have found the exact conditions necessary to their existence. A few feet of elevation more or less, and there is climatic change which places a barrier against encroachment by one species, and reserves a place for another.

To the west, San Ysidro mountain forms a veritable wall of granite, while the north is bounded by Coyote Mountain, rising abruptly from the desert floor without the customary alluvial slope. Against this Alpine background the gray floor of the desert, covered with sage, cacti, and thorny mesquite, stretches away in alluring perspective. Late winter and early spring finds those wide expanses clothed with myriad's of incense bush and a score of other varieties that make the landscape a blaze of color. To the east, the Santa Rosas form a natural barrier from the tropical storms coming up from Mexico during the hurricane season. Entering Borrego Palm Canyon, a splash of green is discerned against the gray rock wall ahead. Drawing closer, one can distinguish individual palms, with slender trunks surmounted by plume-like fronds. Snaking its way around huge boulders, the path enters the grove, and one finds himself in a veritable lost world. In the dense shade are crystal pools of water from hidden springs.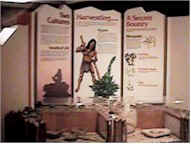 ANZA-BORREGO DESERT STATE PARK®
Visitor Center phone: 760.767.4205
Park Headquarters phone: 760.767.5311
Reservations: 1.800.444.7275
Wildflower Hotline call: 760.767.4684 or visit DesertUSA.

Encompassing over 600,000 acres, the Anza-Borrego is the largest desert state park in the United States. Dedicated to the preservation of this area of the Colorado segment of the Sonoran desert the state park system provide for this and later generations a complete picture of desert life. The Park offers many interpretive programs to the public at no cost:

Naturalist's Talks Presentations by Volunteer Naturalists take place at the Visitor Center. Each volunteer brings special skills and interests to the program, so each is unique. Fossil Programs Join a volunteer from our paleontology group to learn about the mammoths, saber-tooth cats and other life forms that called Anza- Borrego home in the past. Garden Walks Discover the unique lifestyles of desert plants in the outdoor Visitor Center gardens which have representative plants from all areas of the park. Nature Walks Led by park staff or volunteers, a nature walk offers an easy (approx. 1/2) walk exploring park natural features with a knowledgeable guide. Guided Hikes Join a ranger or park Volunteer Naturalist for a longer walk which may cover some rocky, hilly, or otherwise uneven terrain. Campfire Programs Presented by park staff and volunteers, each program focuses on a different topic relevant to Anza-Borrego. The Jr. Ranger Programs A special class for kids aged 7-12 only, Jr. Rangers provides the opportunity for children to meet, have fun, learn about the park, and earn awards; a state-wide program, participants are given a log book so they may keep track of programs they attend throughout the year. Groups, Non-profit educational and youth organizations may request an interpretive program presented exclusively to your group at the visitor center.

BIGHORN SHEEP "The "borrego cimarrón" (as it was called by Spanish explorers) lent its name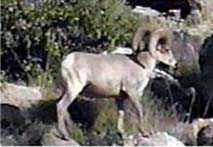 to this park and we are dedicated to providing a lasting refuge for its future. These are challenging times in the recovery of desert bighorn in California. The State Park urges all concerned citizens to write a letter to your elected representatives urging them to list the Peninsular bighorn as an endangered species. This will help the park to protect them fully and acquire funds for support of bighorn-related projects."

OPEN CAMPING POLICY - The Anza-Borrego is one of the few parks in California that permits open camping. BACKCOUNTRY CAMPING - Along with the park's open camping policy, there are a number of dry camps made available to the traveler. DEVELOPED CAMPING - Two developed campgrounds are available in the park. Borrego Palm Canyon Campground, with 117 sites, is located 2-1/2 miles west of Borrego Springs. Full hookups are offered along with large tent sites, campfire center, nature trail and public telephones. Tamarisk Grove Campground, located at Country Road S-3 and State Highway 78, has 27 sites for rigs up to 21 feet. Both campgrounds offer restrooms with day showers, shade ramadas and campfire programs. GROUP CAMPING - five group campsites in Borrego Palm Canyon Campground offer space for groups of 9 to 24 people each. All five sites can be reserved for up to 120 people. VERNON WHITAKER HORSE CAMP - For the equestrian camper or day user, the park has a horse camp complete with 10 campsites, 40 corrals, and showers. RESERVATIONS are suggested for camping in the developed, group, and horse camps from October to May. PARKNET IS THE RESERVATIONS OUTLET WHICH HANDLES THE CALIFORNIA STATE PARKS, CALL 1.800.444.7275.

The Anza-Borrego Desert Natural History Association (ABDNHA) is a nonprofit corporation dedicated to educational, interpretive, historical, and scientific endeavors in Anza-Borrego Desert region. The association produces books, maps, and other aides to understanding. They offer a Desert Lecture series that may include the Sonoran Desert, historic routes through the park, eagles, mountain lions, etc.; support of walks, talks and programs; and support of scientific research. Contact ABDNHA for publications and membership information at 760.767.3052.