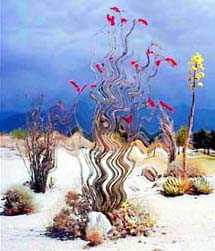 Kat Gibson's Anza-Borrego Desert - Borrego Springs, California - find maps, trip reports, local hotel accommodations, photos, eco tours, activities, resorts, hiking, and history. Enhanced digital photo at right taken at a local golf course during a "storm alert." (Love this computer technology stuff; allows even me to play at being an artist!)
Update 10/16/2006
I've lived in Borrego Springs for the past fifteen years - worked and volunteered for many businesses and organizations in the community, and pretty well know my way around the Anza-Borrego Desert. If you have a question regarding the area, please do not hesitate to send a note to Kat Gibson, P.O. Box 147, Borrego Springs, CA 92004-0147 (SORRY, FOLKS, THE SPAM - MOST NOTABLY THE ANTI-SPAM CONSPIRACY - HAS MADE MY EMAIL ADDRESS IMPOSSIBLE TO DEAL WITH SO I AM NO LONGER USING THE ADDRESS I HAVE HAD FOR THE PAST EIGHT YEARS). A few word to the wise: DO NOT forward junk mail, including email greeting cards, jokes, chain letters, philosophical dissertations, etc; DO NOT use the mailing list function on your mail server unless you are prepared to deal with email addresses that will be shared with anyone and everyone. Use your email responsibly and FIGHT SPAM!
Website and photos (unless otherwise noted) by Kat Gibson, POB 147, Borrego Springs, California 92004. All Rights Reserved.
Click on below titles to jump>to the category on this page.
>Anza-Borrego Desert State Park >History >Trip Reports/Sightseeing
>Borrego Springs Business
> & More

Borrego Springs Community Information - Over 150 businesses support up to 10,000 visitors a day in the Anza-Borrego Desert. Ever wonder what people do when they live out in the middle of nowhere?
Borrego Springs Business Telephone Directory - Listed by category. Be sure, if you use this page often, to "Refresh" the site periodically, as I update as soon as I am notified of a change.
Dear Kat - Email of interest worth sharing. You will find answers to frequently asked questions (FAQ) in these emails.
Directions to Borrego - A couple of maps that I have worked on for quite a while, plus driving directions from the four directions.
Doug Watters of Borrego Springs, one of our former film location professionals, requested a copy of one of my web pages from a few years ago when I was a film liason in Borrego Springs. Click here for a list of some of the feature films shot on location in our desert.
Anza-Borrego Desert State Park
Anza-Borrego Desert State Park® (ABDSP)- Local information from the State Park, including reservation info, advice, photos and links to State Park articles; headquartered in Borrego Springs.
Anza-Borrego Foundation - The Anza-Borrego Foundation is a non-profit organization supporting California State Parks by acquiring land for the Anza-Borrego Desert State Park®
Anza-Borrego Desert Natural History Association (ABDNHA)- Enjoyment and understanding of the desert through educational endeavors.
DesertUSA - Excellent desert website; photos, maps, massive information resource. Be sure to check out the article "The Plight of Anza-Borrego's Desert Bighorn Sheep" by Mark Jorgensen.
Fossils of the Anza-Borrego Desert State Park - by George Jefferson, "a window into the region's vanished past."
History
"A Place Called Borego" - by Phil Brigandi - "Homesteader Days in the Borrego Valley." One of our local historians with an article in the San Diego Historical Society's Journal of San Diego History. Note the two spellings of Borrego; see the article for an explanation.
Anza, Juan Bautista - A little history of Anza's travels through the Borrego Valley.
Anza Borrego Desert Natural History Association - Dedicated to educational and interpretive activities and to the promotion of historical and scientific endeavors pertinent to the deserts of the Southwest. Beautiful and creative website.
San Diego's Impossible Railroad - Historical article by Richard V. Dodge from the Railway Historical Society of San Diego "Nature never intended that a railroad should be built through magnificent Carriso Gorge.." (Anza-Borrego Desert)
Trip Reports and Photos
Map and Directions to Borrego
A Meteor Over the Anza-Borrego Desert by Jerry Schad. Click on the "discover the cosmos" link for Astronomy Photo Of the Day (APOD) archives from NASA.
After El Niño 4/98 - Patrick Dantressangle photos of Anza-Borrego.
Anza-Borrego 2001 - Great trip report with photos from many sites in the Park.
Astronomical Photography by Chris Cook - Many photos from Anza-Borrego.
Backcountry Horsemen of California, Borrego Valley Unit - photos of Borrego Valley Annual New Year's Day BBQ and Poker Ride
Bird Sightings in Anza-Borrego and Salton Sea - From a travel journel.
Bird Sightings in San Diego County - Rare Birds Reported in year 2000; many in Borrego Springs and the Anza-Borrego Desert
Borrego Photos from Tom Siplia - Wonderful photos; love the humor. Website at commercial photo-album site are graphics-intense. Take your time.
California Desert Pictures Photos of Arroyo Seco del Diablo and Arroyo Tapiado by "Regina." Be sure to see the great maps linked under Anza Borrego.
Chris Hendren's Astrophotography - Interesting new website for those interested in our night skies; recent photos from the Anza-Borrego.
Coyote and Sheep Canyon - Photos from Preston Holmes.
Disability Day Trail Ride - by John Stewart, California Association of Four Wheel Drive Clubs takes a group of disabled into Coyote Canyon.
EZ Squadron Borrego Fly-in - Canard aircraft - VariEze, Long-EZ, Defiant, Cozy, Berkut, E-Racer, Velocity and others
Late winter visit to Borrego Springs - by Beth Hoad from Newark, New York. Recent wildflower photos. new
Pix of Anza-Borrego from Uncle Dan and Aunt Elaine at Utah's Rocking E Ranch.
World's Largest Wooden Trestle - Carrizo Gorge flyover Anza-Borrego. Pilots take note.
Borrego Springs Business on the Internet
Borrego Springs Business Telephone Directory - Listed by category. Be sure, if you use this page often, to "Refresh" the site periodically, as I update as soon as I am notified of a change.
Arlan Knutson Insurance Agency - On-line insurance applications from my insurance guy.
Borrego Solar Systems - Design, sale, and installation of photovoltaic electric systems for grid-connected applications and remote homes
Borrego Springs Bank - On December 24, 1996, Borrego Springs Bank became the first Nationally Chartered, Native American owned bank in the nation.
Borrego Springs Resort and Country Club - Golf, hotel, homes for sale, rates posted.
Borrego Valley Airport - County of San Diego website with airport information.
Borrego Valley Inn - Beautiful Southwest B&B accommodations, room rates posted.
Circle of Art - Annual juried show of quality paintings and other works of art.
Coldwell Banker 1st Borrego Springs Properties - Local listings from the local office.
Ellis Farms - Desert landscaping nursery resource.
Hacienda del Sol Motel - Got Sun? Advance reservations recommended for this unique landmark resort... motel rooms, cottages, and family-oriented duplex accommodations available.
La Casa Del Zorro Resort -Four Star, Four Diamond Resort; room rates posted.
Monastery Icons - Desert Fathers of Light of Christ Monastery in Borrego Springs, California
Out of the Ordinary Group Adventures - Unique activities for groups of six or more; mountain biking, off-roading, nature hikes, llama tours, desert teambuilding.
Palm Canyon Resort - RV sites, hotel, restaurant and a great lounge; rates posted.
Rams Hill Golf - Golf packages (gourmet restaurant, beautiful homes for sale and for rent.
Road Runner Realty - NEW WEBSITE Check it out!
Smoketree Horse Rental - Ride through Old Borego, the Borrego Sink, the Mesquite Forest; lessons available.
The Stand Citrus Sales - Order citrus direct from this grower.
Unified School District - Elementary, middle, high and continuation.
Wood Art For Ships, Home and Garden- by Sculptor Peter Myrdal
zNET Internet Services - Local Internet Access!

Some of the content of my Anza-Borrego page has been moved to my Resources page.
Kat Gibson




My insurance agent, Arlan's Pages

My Favorite Resources - Used on an every-day basis (OK, almost every day)...Books, Entertainment, Internet Technology, Maps & Weather, Reference, Search Engines, Search Resources, Special Interest, Specialized Government/Law/Medical
American Legion Post 853 Borrego Springs - Free RV dry camping for American Legion members and their guests.
Borrego Springs Business Telephone Directory - Listed by category. Be sure, if you use this page often, to "Refresh" the site periodically, as I update as soon as I am notified of a change.
Intellectual Property Rights Reserved - Bookmark or save this website in your "Favorites."
Or, use it for your temporary "Home Page" while you explore the Anza-Borrego Desert and
Borrego Springs, California, 92004