Four Wheel Drive
Today, with SUVs all the rage, most have 4 wheel drive optional. (It's standard on Subaru) Even with four wheel drive, the farthest off road most SUVs travel is to hop a curb at the shopping mall. Where did it start?
In 1899, Robert Twiver (sp), of Pittsburgh, Pa. offered an after market retrofit of a driven rear axle mounted on front with a single king pin, like the the horse drawn buggies. Steering must have been quite difficult, especially over rough terrain. (See photos of four wheel drive 1895 Lansing Steam tractor above. It has single king pin steering. Despite the lack of differentials, there wasn't a torque steer problem.)
Duplex Power Car, of Charlotte, Mich., offered a model B, 2 cyl, 14 HP, four wheel drive automobile in 1906. In 1908, Otto Zacow (sp), and William Bessidy (sp), improved their steamer with a steerable king pin. In 1909, they produced seven 45 HP, 4 cyl Badger FWD cars at double the cost of 2 WD equivalent. Walter A. Owen shortened the name to FWD in 1910 and offered trucks to the army in 1911. FWD is still in business today.
The Rambler Company built the Jeffrey Quad for WW one. ( later to become Nash Rambler, American Motors and buy Jeep). So contrary to popular belief, Willys Jeep did not invent 4 wheel drive.
If you wanted 4 WD on your 37 Chevy, You went to your Chevy dealer and ask for the Silver Book option from ASAM. If you had a preference for Fords, Marmon-Harrington offered 4 WD to fit Fords. This was still a few years before Austin-Bantam built the first WW II Jeep (General Purpose = GP = Jeep). Willys "Go Devil" engine was finally designated and Willys' then Ford's production facilities were assigned to build them. One year only, in 1940, Dodge offered 4 WD on their ton & half trux. It appears to use Marmon-Harrington axles. Dodge also offered a half ton 4WD and most popular the 3/4 ton command cars for WW II. .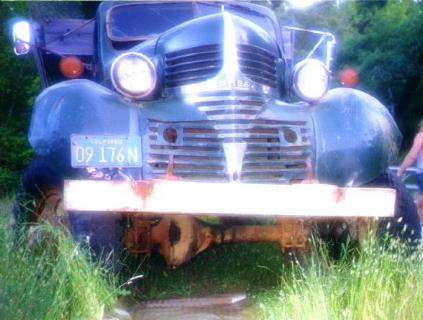 .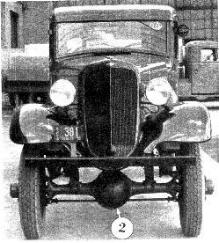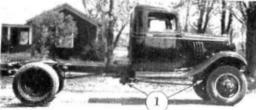 The ALCO offered to 35 -36 Chevy owners a conventional 4WD system with a top heavy stance. Since it's made by the Alma company, I doubt it is any relation to The American Locomotive COmpany of same name. .
During WW II Chev and GMC made 4 and 6 WD trux for the military. They used a special low pumpkin ratio (6.67) for a top speed of 48 MPH. The GMC's transfer case had an underdrive hi gear of 1.16 and a Clark 5 speed overdrive of 0.799 to counteract it. These Clarks bolt on to two wheel drive Chevys with 5.43 pumpkins for great hiway travel. Click " RPM" for more details. About 1949 the Silver Book option used "NAPCO" on half and 3/4 ton Chevrolets. .
Back to 1937, Below is a page from the Silver Book. Below that is an ad for ASAM. I imagine with all gears and no U-joints, it must have sounded like a rock crusher for miles. Please email me if you would like larger files so you can see every detail. "<c1937@znet.com>"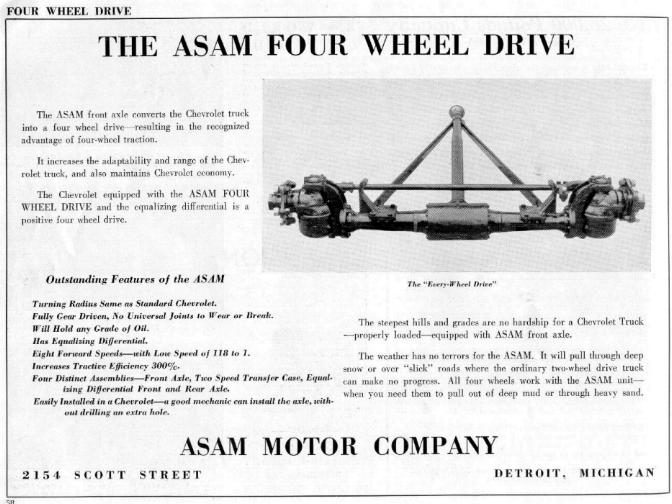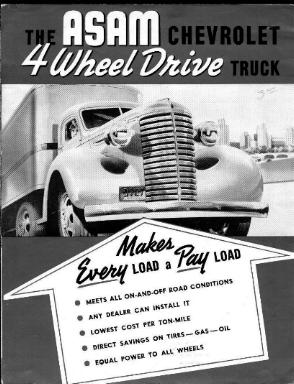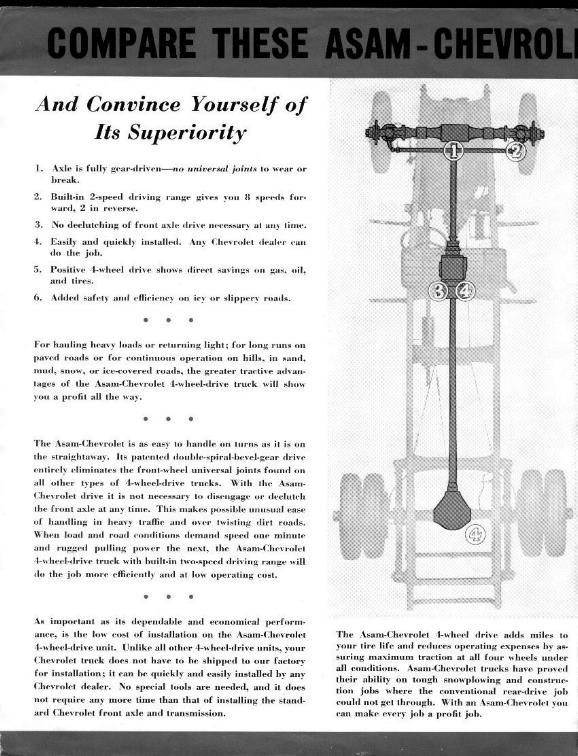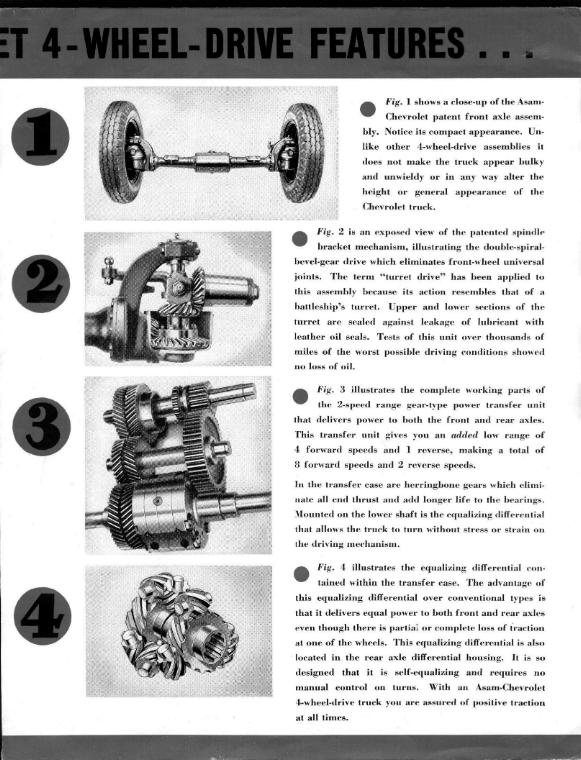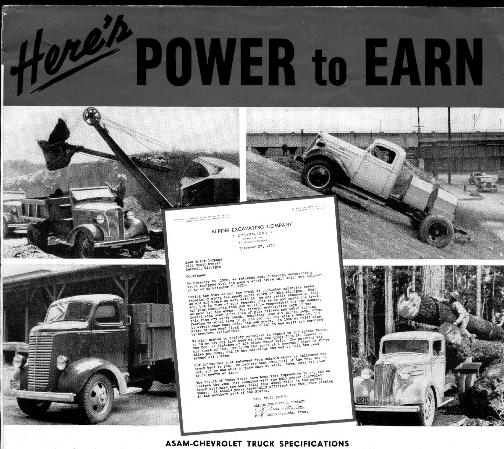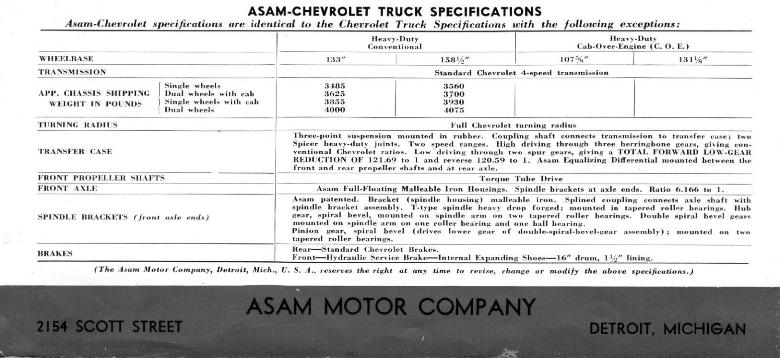 For the military GM offered the following: Note the front axle uses a 5 ball CV joint rather than the 6 ball used on most front wheel drive cars today.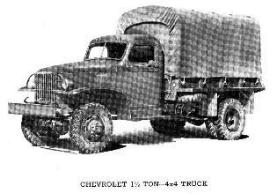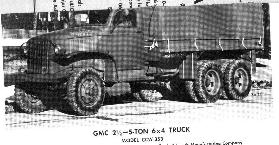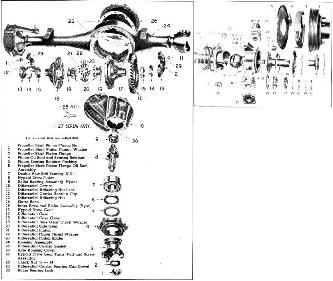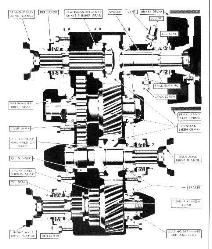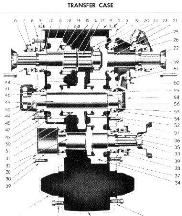 Note in the Chevrolet transfer case above left, that a third axle could be attached to the parking brake. There appears to be provisions for a dog clutch on existing rear output. Neither has provisions for differential gears. .
The GMC transfer case above right, is conspicuously missing the front drive unit for 6X6 trux. Since there is no differential between the two rear axles, all 8 tires must be the same size from the same manufacturer with the same air pressure and tread ware, if you run on pavement. This transfer case differs from the Chevys in that Hi gear is under drive and Low is farther under. It also appears that if you switched main drive gear #13 and main driven gear #50, you would achieve a slight Overdrive in Hi. See "RPM" for ratios.

The Blitz Buggy below left, was Australia's WW II Chev. I don't know the source for the drive train but the motor was 1940 Chev, when Australia entered the War. With the COE design, the driving position was about as cramped as a modern car with console. The 1927 Tatra had a center tube frame with independent suspension hooked front and rear. This permitted foot wells and a lower roof line but a drive shaft hump in the floor. Ferdinand Porsche incorporated this design into the KDF (VW) and was sued by Ludwig after the war. The dorsal tail Tatra, below right, sported a Rear engine V-8 and was said to have killed more Nazi soldiers than the Czech army when they discovered the Tatra, they had stolen, had severe under steer. (Plows off slick roads). Please visit < http://www.logicnet.ru/~len/ab/gal.htm for iron curtain vehicles. .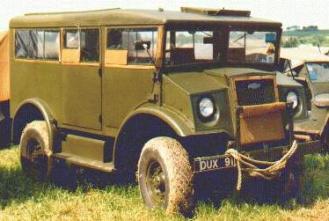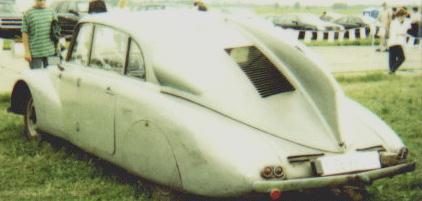 Thornton Tandem Drive
Thornton also made a 4 wheel drive that was popular with the loggers. Note that like the GMC above, Hi Gear was an under drive on this unit. This means it could not be used in conjunction with ASAM to make a 6 wheel drive 37 Chevrolet. Unlike the GMC, there is a differential between the rear axles.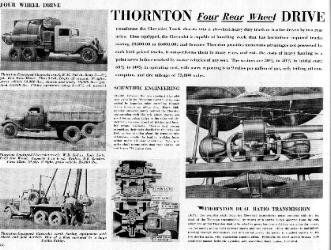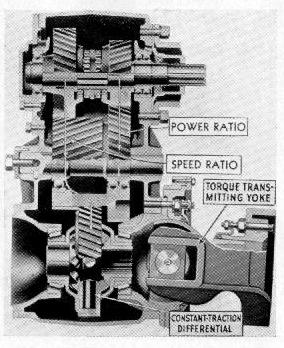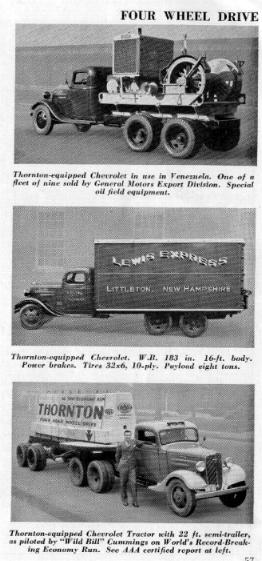 I saw a 41 Chev/Thornton at an ATHS show in Spokane. (Photo of business end below:) He had a 4 speed main transmission, a 4 speed Brownie, 2 speeds in the Thornton and two 2-speed rear ends with some clever linkage to keep both in the same gear. With 64 forward speeds, his floor board had a forest of shift levers protruding forth. Using the gear ratios from the chart on RPM, here's more math: 2-speed rearend low ratio = 8.22 (times) Thornton "Power Range" = 2.04 (times) Brownie Low = 2.11 [this is 35.39 with main trans in hi. A standard passenger car is 10.9 in Low] (times) Chev low = 7.22 Equal = 255.7 in lowest gear. The logger could put his truck in this gear and chop down a tree while he was waiting for the truck to pass by. .
Note the frame cross member is up side down to accommodate the higher propeller shaft. This is vacuum shift on the 2 speed rears and mechanical shift on the Thornton. The 37 is torque tube while the 41 is hotchkiss.
2 Speed rear ends.
Deviating a bit from 4 WD, Timken and Eaton offered two different approaches to 2-speed axles for 37 Chevys. Chevrolet adopted the Timken style for 1939.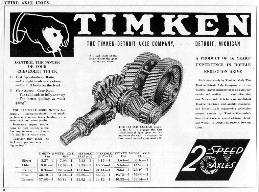 My only criticism of the Timken above, is that they should have placed the small low gear directly behind the pinion and a larger hi drive gear could be located on the other side where it's size wouldn't be limited by the pinion clearance .
The Eaton below is similar to the planetary unit from Columbia available for Ford passenger cars.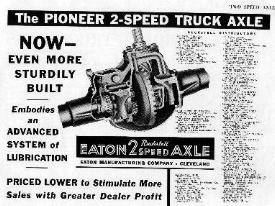 Back to Trux
After reading this page, you may want to view the numbers on the RPM page.
These are Silver Book accessories available from private vendors through Chevrolet. View Accessories.
If you own an Advance design or Task Force GM truck, Please check the NAPCO website <http://www.stovebolt.com/napco
If you'd like to see Iron Curtain vehicles try < http://www.logicnet.ru/~len/ab/gal.htm
And if all else fails, you can click Back Home.