GM truck History .


Commercial Chassis
(1886) The first recorded long distant (200 miles) auto journey was taken when Melitta Benz and her 2 boys took a Joy-Ride in her husband's trike. She neglected to mention it to Carl Benz before embarkation and returned with a list of complaints about the vehicle. She also designed the first coffee maker.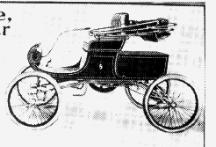 1903 Oldsmobile

Before the teens, a prospective owner needed to decide on the chassis he/she wanted and then select the body and arrange for shipping to connect the two. In 1903, Oldsmobile had a fire at their factory and was able to save only the budget Curved Dash model, where the heavier and more costly prototypes perished in the fire. Against the posh bankers wishes, they mass produced the inexpensive Curved Dash model. It was a hit. At $650, it was cheap enough that the wealthy of the day didn't consider it a risky investment and they could wind it up & drive off. Henry Ford and Wm. Durrant were watching!!
While many arrogant investors let their ego waste their fortunes, in 1909, Ford built a ready to drive economy car, the Model T, and hired Barney Oldsfield to drive a Ford racecar (999) for advertising purposes. 2 years later, Durrant ask another famous race driver, Louis Chevrolet, to build his dream car. Chevrolet's ego built a big expensive model C.
While Mr. Chevrolet was away in Europe, Durrant combined the Little body and Mason motor to create the economical 490 Chevrolet. When Louis returned and saw the diminutive vehicle with his name on it, he threw his stocks in Durrant's face and left the company.
Passenger cars have been most common in 2 and 5 passenger styles. Trucks had to be tailored to the needs of their owners. In the teens, many passenger car chassis were used for light delivery. In 1918, Chevrolet offered a medium truck chassis using engine from larger FA passenger car. In the 23 half ton chassis (seen below), is the half ton truck you got for $395. No truck bodies were available from GM in 1923, not even a seat.
The 1918 T one ton truck came as chassis and seat. "Superior Commercial Chassis . . . . $395" (half ton)
The Canopy Express body was supplied by unknown source. "Utility Express Truck Chassis . . . . 560" (One Ton)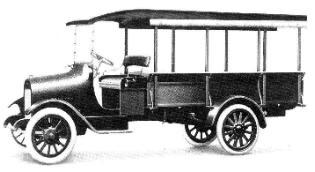 .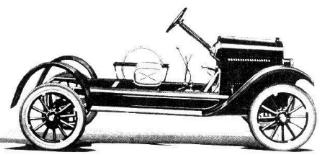 "1918 model T Chevrolet truck" . 1923 half ton chassis

In 1926 Chevrolet offered a cab on the one ton truck, but not on the half ton. In 1927, Chevrolet offered a cab and panel but only on the LM one ton chassis. It can be identified from other body makers by the blending of hood at cowl to body, usually with cowl lights. The chassis shipped to other body makers did not have a flared cowl. Chevrolet discontinued offering the Panel body in 1928 on the LO and LP one ton chassis. In 1929, the ton & half panel came standard with bucket seats, Vinyl roof and 4 speed on the floor. Eat your heart out, Camero lovers.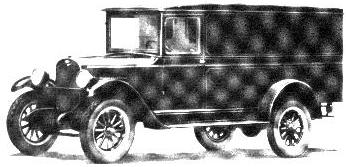 .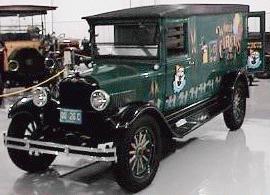 Martin-Parry Body Company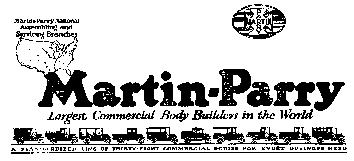 Martin-Parry was one of the major suppliers of bodies for Chevrolet. GM bought Martin-Parry of Indianapolis in 1931 and renamed it the "Chevrolet" body plant. Hence, US made Chev cars have Fisher bodies and GM trux made after 1931 have "Chevrolet" bodies.
In the 1932 line up below from March 12, 1932 Post, note the number of Panels and Canopys. They offered Standard, Deluxe, and Special series trux. It appears that the Standard did not have a chrome radiator shell. I see no ton & half Canopy Express nor Deluxe Pickup.
Top line = half ton Deluxe panel, Standard panel, ton & half panel, Standard Canopy Express, Standard screen sides.
Bottom line = Closed Cab-PickUp, CC-PU w/Canopy top, Deluxe Canopy Express, Special Panel, Roadster Pickup w/Canopy top.



See Panel and Canopy Express articles for further information. The Suburban Carryalls first predecessor was still a year away.

The 1937 Chev Chassis came in 7 sizes:
Deluxe Passenger (model GA) produced 172 Chassis , Standard pass (GB) made 72,


half ton (GC), Pictured below, = 796, 3/4 ton (GD) = 15, one ton (GE) = 13,
1&1/2 ton 131" WB (single rear wheels SA) = 557, (duals SB) , = 2424, 157" (SC) = 328, (SD duals) = 4321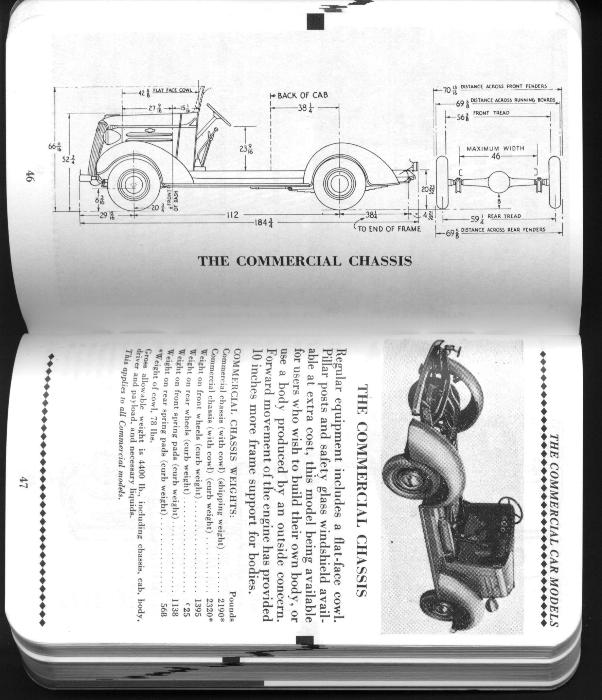 (Above is page from Salesman's Handbook. It is quite interesting and available from Jim Carter at <jimcartertruckparts@worldnet.att.net>.
You might have noticed that the chassis appear to have the body belt divide at the cowl in the factory brochure which was only the case when GM bodies were applied. ( See above) Every other body maker only got one belt. I guess Proctor - Keefe liked the divide so much that they made their own. (see below cowl)
A representative of the 131" Wheel Base with single rear wheels (SA) is my Proctor - Keefe mail truck. (this is the same chassis as the Ambulance in another article). The Silver book shows Proctor-Keefe panel type bodies for both 131 & 157" wheelbases. My mail truck was used by San Francisco post office from 1938 to 1952 when it was sold to general public. It is actually a 1938 (TA) and for sale. ($800)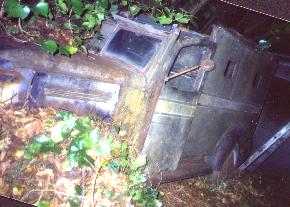 .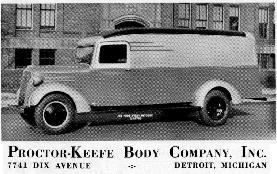 You might note my mail truck is a 38 single rear wheel, short wheelbase, with Post Office Peep hole windows in cargo area where as the 37 Silver book has long wheel base, dual rear wheel, Deluxe body pictured.
Unfortunately the Proctor - Keefe was built the "old" way with wood studs and metal sheathing.
Production 1/2 ton 3/4 ton One Ton Ton & half 131" 131" Dual rear wheels 157" Dual 157"
Chassis 796 15 13 557 2424 328 4321
Cab &Chas 3705 169 108 2992 24276 850 52189

Please email for more photos. Lou <c1937@znet.com>
Here's a great website for viewing more old Chevrolet & GMC trux: <http://www.stovebolt.com/truck/>
The following are pages on this web site you might like to visit:
Accessories
Ambulance >>
Omnibus >>
Carryall Suburban >>
Engine block casting numbers
Station Wagons >>
Canopy Express >>
Cab Over Engine >>
Chassis & History
Flxible municipal bus
Transmission and rearend Gear ratios
ID Numbers
Limousine >>
Pickup, Utility Express
Coupe Pickup >
Paint Colors
Panel Trux
How many were made?
Repair tips
Sedan Delivery >>
Stake and Flatbeds
Simi-trailers
Four Wheel Drive
Look at passenger cars


Repair tips
Return to trux > >