Introduction!
I'm Having a Garage sale. Check it out: I have a bunch of non 37 parts that I will gladly trade for equivilent 37 parts. Click here.




Being offered a little bit of web space I wanted to share what little knowledge I have about 37 Chevs with those who are interested. I have no animosity towards Fords or Porn, I just don't have the web space for them here, and other web sites do. I'm not fond of bad attitudes nor is any one else. If you got one, exchange it for something better. Being a private web page, there are no commercials. There are no pop up ads or links to ads. Your name & email are not placed on a "spam" list. (Except for the Parts page that tells you where to find emergency parts if you get stuck in the middle of nowhere and need to take a cab to the nearest parts store. These are not sponsors.) See bottom of this page for links to other web sites.
I'd rather wrench than write, so pardon the clerical errors. This is my first stab at a web site so it doesn't look professional. I'm not selling anything so there are no ads. I update when it's too cold and wet to crawl under an old heap. If you see a photo here that upsets you cuz it was snapped of your vehicle without your permission or inadvertently pirated from your book or for other reason would not like it to appear here, email me and I will remove it. <c1937@znet.com> (Clicking on Blue print will link you to what is being discussed.) If you get an error message at the above email, try <p1937@uf.znet.com>
Contents:
I've tried to load the site with photos of the different models available for 1937 Chevrolets. Due to limited web space, the photos are of Low resolution. I'll be happy to email you a better photo if you let me know which one. <c1937@znet.com> If it doesn't come thru, let me know and I'll send it on a different program. I have Netscape, Outlook and Eudora.
If you click on a page and nothing appears, that means I haven't started it yet. I have a section that covers Passenger Car with Holden and Fisher body Chevs and aTruck section with Holden, Chevrolet (formerly Martin-Parry of Indianapolis), and European body Chevs. I have no info on the uniqueness of South African or South American 37 Chevs at this point. If you have photos of anything I'm missing, that you'd like to share, Please send me an image at <c1937@znet.com>. I prefer JPEG.
You might want to take a look at History for starters.
I've included several charts that I know have some inaccuracies. I've denoted what is obvious. If you want to know how rare your 1927 - 1948 Chev is, Look at the Production Figures. The obvious errors are no listing for vehicles that I have, own and have literature for. If you wonder what color your 1935 - 42 was painted, I've included Paint Codes and Chips. It's possible, with the right bell housing, to bolt in a 1914 four cylinder or a 2002 V-8 engine to your 37 Chev. To find out what engine has found it's way into your car, look at the Casting Numbers on your block. If you're driving to a car show and your fillings sing when the babbit starts beating at 60 MPH, Look at RPM to see what 37 Chev was the fastest. Have you wondered what Accessories were available for your 37 Chev from GM and GM approved vendors?
Durn thing quit in the middle of nowhere!
Hot Rods. The biggest excuse I've heard Hot Rodders use for modifying vintage vehicles, is that they can find parts for their later model engines "anywhere". On my way back from a business meeting about 300 miles away, my Ambulance stopped like I had shut off the ignition. Not having a cell phone, I walked back 5 miles to the closest town and found the closest parts store on foot. I bought a rotor for $2.50 and tried to bum a ride back with one of the patrons. His 95 GM truck had stalled on the freeway the other side of town so he couldn't give me a ride. His ignition module had failed. $280.00 next Tuesday. The moral is to carry a Cushman for a shuttle craft.
Just out of Real Estate court, Friday afternoon, 260 miles North of Home, and thinking of the truck show I needed to get to at 5 AM Saturday, 250 miles South of home, I know I wasn't going to get much sleep. The 6 Volt Generator quit on the yellow Canopy Express. I could probably make it home with out headlights or heater and switch to the Ambulance to head south. But I took the Ambulance to that show 2 years ago and if Women can't wear the same clothes 2 days in a row, I can't drive the same 37 Chev to a show 2 years in a row. In the 2 blocks it took to ponder this foolishness, I saw an Alternator shop that was still open. $4 and 15 minutes later the 3 brushes were installed and polarized and working. They are still working fine. (Click here for more electrical information.)
I made the show on time but when I went for dinner, there was an 8" long nail in my flat front tire that I probably acquired at the fair grounds. I called AAA who offered to halp me put the spare on. They gave me a list of tire repair shops that had never heard of patching a tire when you could throw it away and buy a new one. (No one had a 6.00 X 16 bias ply in stock) Many 35 cents's later, I found a place confident to fix a flat the next after noon. I left the flat and sure enough, the idiot put a plug in the tire without dismounting which ruined the tube. The drive home on the ancient bald spare was unnerving but uneventful.
The point of all this babble is that I'd like to set up this web site with useful information on where us fools who drive around in old gasoline powered vehicles can purchase parts necessary to make it home. If there's a parts or repair place in your area that you know has 6 volt electrical parts, 1954 or older ignition parts, wheel bearings, can patch tubes; I will put their phone, address and store hours on this site for all to view. If you're on your way to a meet, you can down load a list that's in your direction of travel. If you need a part, you won't have to walk in the wrong direction to get it. Email me the info at <c1937@znet.com>. I hope to get it up before summer. Click "PARTS" to see who has what, where and when they are open and what parts will work in a pinch to get you home. (I've written several parts store chains that I know carry a few useful parts and have not received one reply.)
Thanx!
I would like to thank John and Peggy Milliman of the Stovebolt page <http://www.stovebolt.com/truck/>, and Joe Narduzzi of the Chrysler page <http://clubs.hemmings.com/Ccpc/index.html> for assisting me in getting this page up on the web.
The following are a list of pages on this site. Some may not be accessible thru Icon. Please click on what interest you.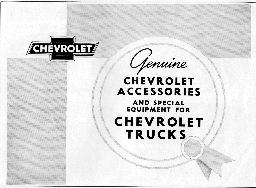 Accessories >> << Repair tips


Paint and Color >> << Electrical Problems
Engine Casting Numbers >> << Fuel Gauge rescue
Body ID numbers >> << Knee Action Repair
1927 - 48 Production figures >> << Save that Temprature Guage
Trans & Rear end Gear Ratios >> << Water Pump exchange
Back to Home page > > > << Steering Geometry
< < Garage Sale !! Non 37 parts.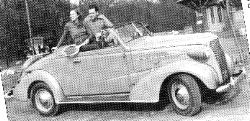 Carz >> <<Trux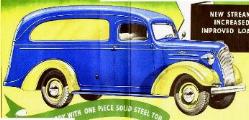 Coach, 2 door sedan >>
Flxible >> << Ambulance
Omnibus >> << Cab Over Engine (New Info)
Limousine >> << Four Wheel Drive
Tourer & Phaeton >> << Canopy Express Truck
Sedan Delivery >> << Panel truck
Station Wagon >> << Carryall Suburban
Coupe Pickup & Ute >> << Commercial & Utility Express
Coupe >> << Semi-Tractor
Sedan >> << Stake
Roadster & Convertable >> << Dubl-Duti Package Delivery

Since this site is only 37 Chevys, you've probably had it up to here with 37 Chevys by now and would like to broaden your interest. Here's some "Links" to other vehicle related web sites. If you know of some I've missed, let me know and I'll add them to the list.
Early Chevys <http://members.xoom.com/DAVIDOH/>
1911 - 1924 Chev <http://home.earthlink.net/~scrippsbooth/chev.html>
Dennis's 35 sed and 37 Pu Holdens <http://members.networx.net.au/~lucky57/>
The Flxible owners international club web site is <http://flxible.net/>.
1937 Coupe, <http://home.comcast.net/~davidcwhite/>
1939 Chev web site by Jim Diaz <http://www.1939chevy.com/>
Pre War Chevy site by Alan & Karen <www.prewarchevy.com >.
1939 - 46 Trux <http://www.haist-usa.com/oldtrucks/> Whitney's Art Deco web page.
1941 - 46 Trux < http://www.brads41-46chevys.com > Brad's Art Deco Page
WW 2, Military Chevys <http://vehiclesofvictory.com/>
Suburban Carryall <http://www.classictruckshop.com/clubs/earlyburbs/>
Panel trucks and other single units < http://www.paneltruck.com/ >
COE<http://www.favorites.com/~jolly/COETrucks.html>.
GM Trux Texas <http://lonestar.texas.net/~maniac/classic.html>
In line engines <http://www.inliners.org/> Inliners
Plymouth Page < http://www.ply33.com/index.html >
National GM trux <http://www.ao.net/CHEVY55-72/> Regional below
Northern Cal GM trux <http://clubs.hemmings.com/frameset.cfm?club=norcalchevytruck>National above
Old Trux <http://www.aths.org/> Antique Truck Historical Society.
ThePacific Bus Museum is located at <http://www.pacbus.org/>.
Chev Page <http://www.chevytalk.com/>
Andrei's Global Vehicles <http://www.logicnet.ru/~len/ab/gchevy.htm> From Russia
Electric Autos <http://www.geocities.com/MotorCity/Downs/4214/links.html>
East Bay EVs <http://www.geocities.com/MotorCity/1756/>
USA EVs <http://www.eaaev.org/>
Ausi EVs <http://www.aeva.asn.au/>
Toyota Museum <http://www.toyota.co.jp/e/museum/Tam/Map/index.html>Their first car was 36 Chev clone.
Nifty 50 Cruisers Car Club <www.cpinternet.com/~cruiser/ > Stock and modified vehicles of all ages.
Plymouth 46 - 48 <http://216.150.20.119/newsletter/newsletterindex.cfm?customerkey=TheP15Driver>
39 - 47 Dodge Trux <www.39-47DodgeTrucks.com>
Station Wagon web site < http://www.stationwagon.com/ >.
Another Station Wagon web site < ASWOA@aol.com >.
Late Model Chevrolets < http://www.qozi.com/chevrolet/ >




If you'd like to view some 37 Chev trux, Click here >>
To view 37 Chev passenger cars, click here >>
Here's how to fix it >>