Station Wagons!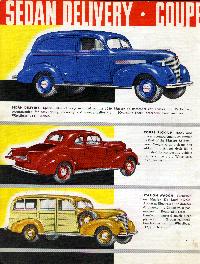 Unlike most of the other body styles mentioned here, Chevrolet only supplied the passenger or commercial chassis and the buyer was susposed to locate and buy the Station Wagons body.
In 1939 Chevrolet officially sold the MidStates bodied Woodie Wagon. The production figures indicate 201 wagons in 1939 were made with rear door on Master 85 chassis. In 1940, 367 rear door wagons were built on Deluxe Chassis. If you have a photo of a wagon with a door, I'd sure like to see it. Click here to contact me at <c1937@znet.com>.




Wagon Production
The following is production for Wooden Station Wagons.
Year Deluxe with Tailgate Rear door Standard - Gate Rear door
1931 - 38 (We know that Chev sold them but didn't officially start till 39 with Midstates Body Co.)
(Are the production figures contained in the paltry Passenger Chassis lists?)
1939 989 229 201 3125 or 3175 lbs, $848 or $883
1940 2126 367 411 (?) or 3285 lbs. $903 or $934
1941 2045 (Wagons not produced on either low end models 1941 - 52)
1942 1057
1946 840
1947 4912
1948 10171
(The following are total wagon production, unspecified as to wood/metal, 2/4 door, Handyman/Nomad.)
1949 Wood ? Metal ?
6006 3342
1950 16,995
1951 23,586
1952 12,756
Model numbers 1509 1529(2-door) 2109 2119 21292-door) 2409 2419 2429(Nomad?)
1953 22,408 18,258 7988
1954 21,404 27,175 8156
1955 17,936 82,303 28,918 24,313 8386
1956 13,487 113,656 17.988 22,038 13,279 7886
1957 14,740 127,803 21,083 17,528 27,375 6103

The first mention of Wagons is 1939 with a Midstate Body. Prior to that, Hercules, Campbell, Cantrell & others offered "Wood Wagon Bodies" to GM, IH, Dodge, and others. Here's a 37 I'd like to own. The Campbell ad below indicated that no liftgate was available and an end cutrain was optional. The Cantrell also has "poke-a-dot" connectors for end curtain.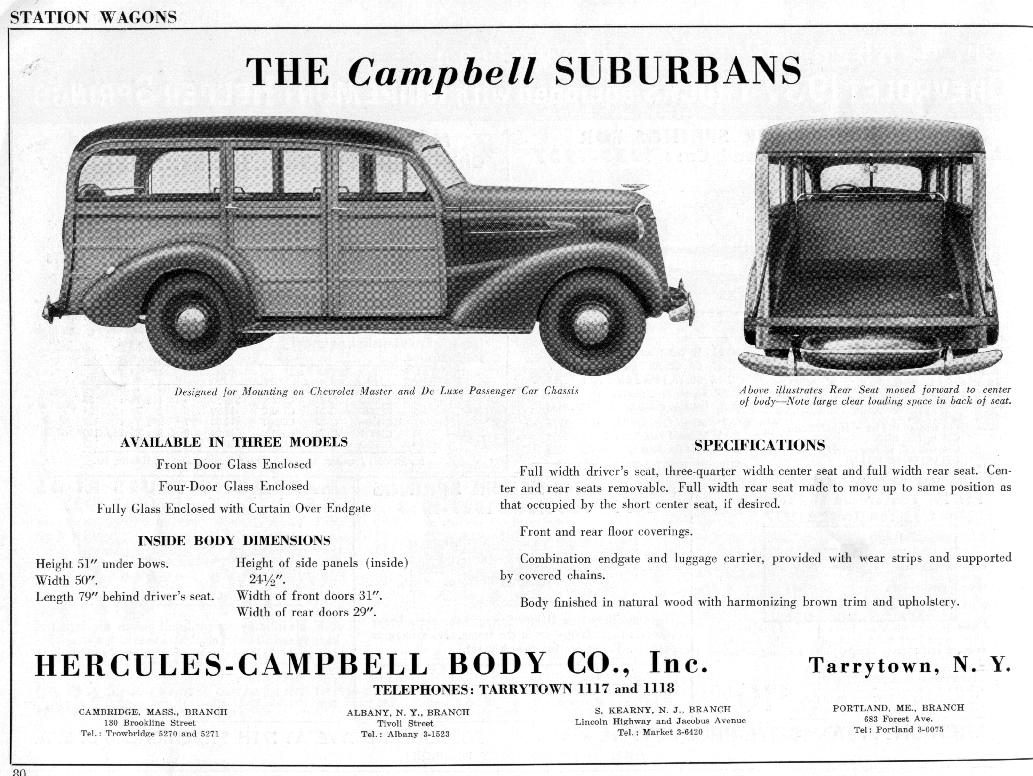 Oh where to put the spare tire??? (Remember that the Coupe - Sedan Delivery tank would consume the back seat foot well so the Coach - Sedan tank occupied the space under the rear.) On the Campbell above, the tailgate is heavy and hits the rear bumper when lowered. I've seen several with the center portion of the bumper cut away. On the Cantrell below, the hood hits the SideMount every time you try to open the left side. The rear bumper appears to be same as trunkless Deluxe Sedan. The Cantrell below, does not appear to have a lift gate either.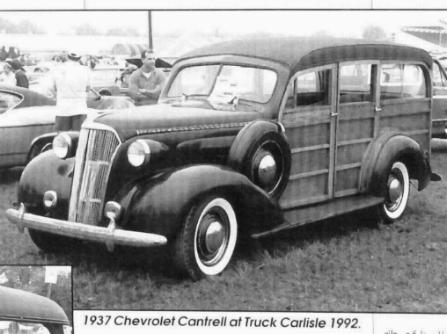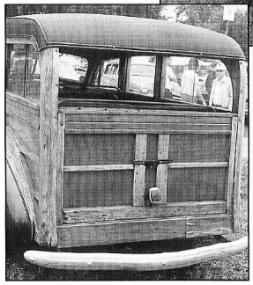 1949 mid production was the first time Chevrolet officially made a metal wagon on a passenger chassis. Burb is on a truck chassis. So what is this pictured below?? It was for sale in Colorado several years ago. The price was way too much for it's condition. The seller wouldn't disclose the name of the new owner. He said there was no Fisher body plate under the hood.
The rear door appears to be Sedan Delivery. If someone cut the windows out of a Sedan and patched them in, why not include the back door? The "C" pillar appears a bit wider than a sedan. They did a remarkablly good job. It's the only smooth body panel on the vehicle.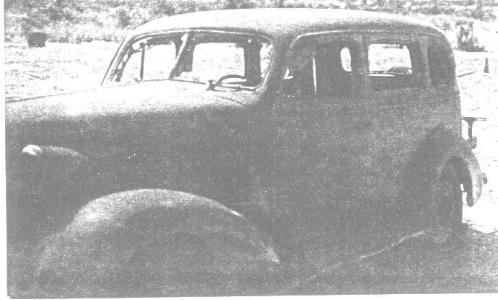 The last mystery is where is the gas tank located? I don't see any filler spout behind the right wheel as in the sedan nor do I see a spout ahead of the wheel as in the sedan delivery.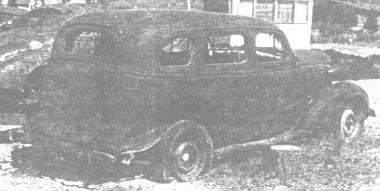 .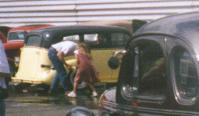 Just when I thought I'd seen one of a kind, I looked in the background of a photo of a sport coupe from Sweeden and there's another one. Could this be a body style available only in Europe?

Sweedish Mystery Solved

Bengt Hjort wrote:
Sir,

I´m just the one that took the photo of a ´37 coupe with a yellow/grey 1937
mystery car in background. Since I new the history of this car, I can tell
you that it originally was one 4 door 1938 sedan and one burned out 1937
delivery sedan. These two cars were merged together and side windows has
been cut out the delivery´s sides (its a one piece glass that goes from
"B"-pillar and back) I do not remember the owners name, but I know his
hometown is Karlskoga, Sweden.


Station Wagon Website: Click here!



Click here to switch to the Carryall Suburban page.>>
Taxi & Limousine >> Busses > > Flxible Bus > >
Back to trux >> Back to Carz >> Back Home >>>


Repair tips
Coach
Touring
Taxis and limousines
Sedan Delivery
Coupe Pickup
Coupe
Sedan
Bus
Flxible
Back to carz >>
View trux >>
Back Home >>>